Why it's important
Everyone deserves to have the opportunity to learn about themselves and their capabilities in a meaningful and positive way. Unfortunately, many Indigenous youth do not get this opportunity.
At Focus Forward FIY, we seek to provide hands-on experiential learning opportunities for Indigenous youth through trades-programs centred around locally-developed projects that give back to their community.
With your help, these exciting programs will strengthen Individuals' and communities' futures for generations to come!
What's the real impact?
As a charity, we are constantly worried about Impact - it can be really tough to quantify! But, after a busy year we feel we have had a truly incredible impact. The items below illustrate just SOME of the positive outcomes from the projects.


And while these items are great, we believe the biggest impact is only starting to be felt! The most powerful piece is the newfound sense of accomplishment and pride students walk away with after building something their friends and family all benefit from. One of our past students really hit the nail on the head with his hope, "In the future when I have kids of my own, I can tell them I helped build the greenhouse beside the high school".
Join us and make an impact.
Choose one of our exciting donation options! Set a team goal and achieve our awesome perks!
For every donation made, students directly benefit in the following ways:
students receive their safety certificates

students receive wage packages

students receive high-school co-op credits



You can help us continue our success, simply by sharing this on social media, making a donation, or both! In return, we can provide you with a tax receipt, and update you with our amazing progress.
Where your donation goes
While $10,000 might seem like a lot of money, we promise we make it go a long way! To make it simple, let us provide a quick breakdown. For every $100,000 we spend the funding on: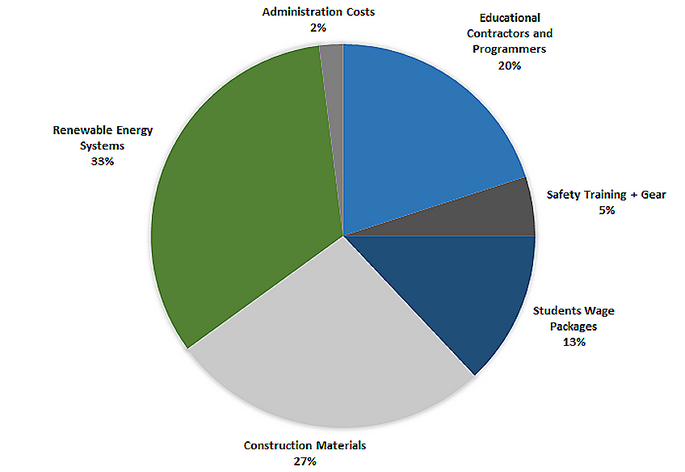 From this funding, a large portion ends up being re-invested into the local economy through student wage packages, hired contractors and local material suppliers and typically communities cover over 30% of the total project costs. On top of that, every dollar we raise is always leveraged to get more funding from bigger organizations! Starting with less than $5,000 of initial funding, we already managed to secure over $200,000 through grants for our greenhouse projects, just imagine what we can do with $10,000!
Focus Forward for Indigenous Youth would like to see a society where Indigenous youth are free from discrimination, isolation, and barriers to opportunity. Together we can achieve this vision.

For more information, visit: https://www.focusforwardfiy.org