A Place of Peace only exists because of the support of our generous fans. Please take the leap from fan to family and help us survive Winter 2020.
During the fires, 1,500 of you literally saved our sanctuary. We are so incredibly grateful for this miracle of an outpouring of support for the animals here.
A Place of Peace is the largest farm animal sanctuary in Australia. We feed, water and care for almost 500 large animals. And since the November bushfires, we're also caring for over 100 wild animals in desperate need of food and water. And somewhere to call home.
We kept all the animals safe and well through severe drought, unprecedented fires, floods, dust storms, and heatwaves. Now a global pandemic brings fresh uncertainty.
And winter is coming — the hardest time of year for us. We still need your help! Join our family of donors in a Kindness Revolution and support the effort of making sure all the residents of A Place of Peace have plenty of food for the months to come, keeping them warm, cosy , happy and healthy.
Click Donate Now to help the Deep Peace Trust's farm animal sanctuary, A Place of Peace.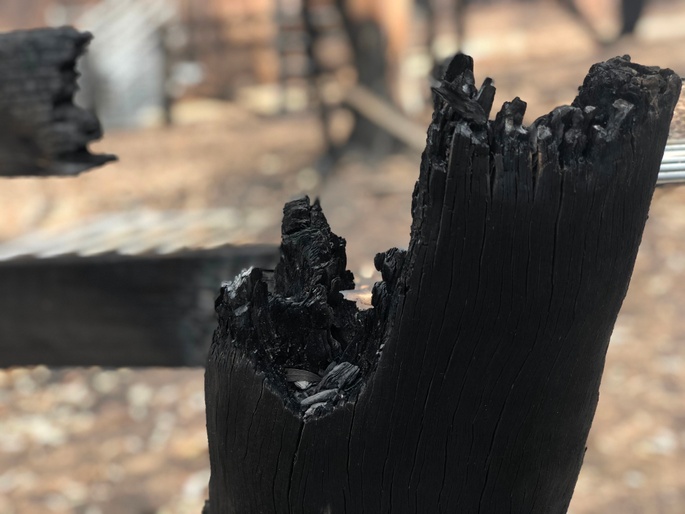 Above: what remained of our yards after the fires.
Below: the dust storm that followed.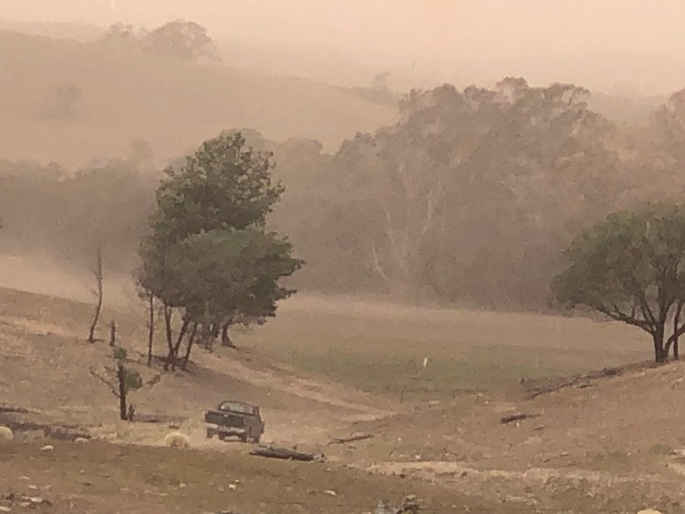 A Place of Peace
Set in the gently rolling hills outside Braidwood, NSW, the Deep Peace Trust's farm animal and wild horse sanctuary A Place of Peace is nearly 500 residents strong, with more than 100 wildlife refugees finding safe haven here after the devastating bushfires that wiped out their homes. We're the largest sanctuary of this kind in the southern hemisphere. Roaming the land here are cows, sheep, horses, goats, ducks, geese, kangaroos, wallabies, and wombats, and birds of every description nestle in the trees. There are also formerly wild cats (now contented inside cats) and rescued dogs, who live with us (Billie, Andrew, and daughter Tamsin) in the house.
Over the past 12 months, we've been hit by severe drought, (three years of that!), unprecendeted fires, harsh dust storms, heatwaves, flash flooding, and more. Through all that, we've kept everyone safe. Giving up is never an option. The animals depend on us for safe harbour, and we are committed to them.
Covid-19 and Winter
Now there are two new threats to the safety and wellbeing of the animals — this current pandemic and winter!
With the pandemic crisis, we have no idea if Andrew will be able to keep his current job, which we depend upon to keep the sanctuary going, along with the support of our regular donors.
We've had to stop volunteers and working bees. Fences that were destroyed by the fire and damaged by flood, are far from repaired, meaning we cannot move the animals around as we used to and need to. This means well over 100 acres is now just left for the wildlife. And that's fine. But it means we need to buy extra hay for the other four-legged residents.
And winter is coming. Without repaired fences, and thus more paddocks, it means a tougher winter for the animals. We're wanting to ensure the safety of our sanctuary and animals in a time when hay is still incredibly expensive. You don't just turn your back on Galahad the wild horse who lost his mum when he was just a few days old, or Primrose the lamb who lost her mum too, and came to us alone and frightened. They need our compassion and care. And they need the help of donor family.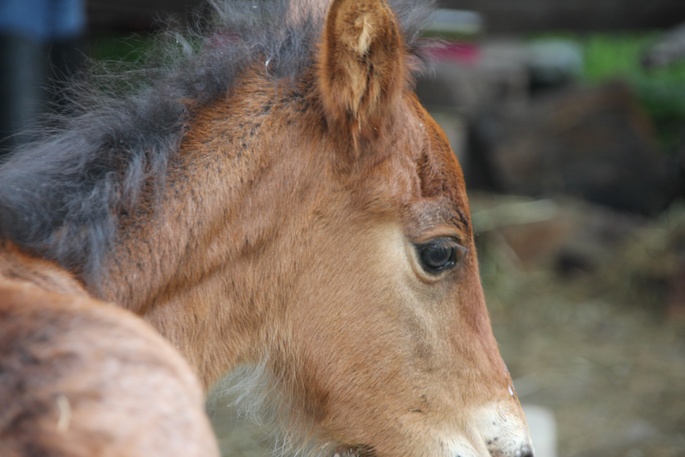 Above: Galahad the wild horse.
Below: Primrose the lamb (left) with her adopted brother Marcus, (also motherless) kept company by Maeve, our most recent rescued dog.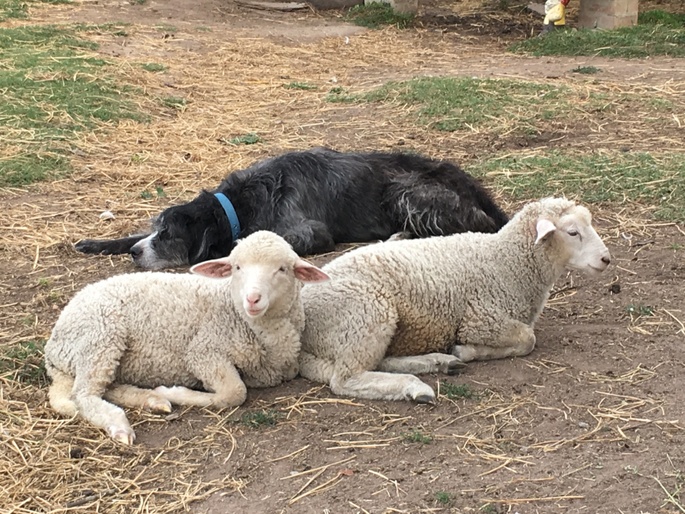 You are the solution
Each month over winter, we spend a whopping $25,000 a month on hay. That means we need to raise $75,000 to keep all of these beautiful animals fed over the colder months.
Our fans have always been incredibly supportive, and now we're relying on you more than ever.
We know that this is an uncertain time for everyone, but if you have the means, please consider shouting one of our animals a month of meals over winter. It costs just $49 to keep a beautiful soul, like Enya, a horse rescued from terrible neglect, safe for a month.
We figure we just need to find 1,530 generous animal lovers who are willing to contribute $49 each to see us through the tough months ahead. Can you help? Can you be part of our family of supportive, open hearts? Can you be part of a Kindness Revolution, giving just because it feels good and is for a good cause?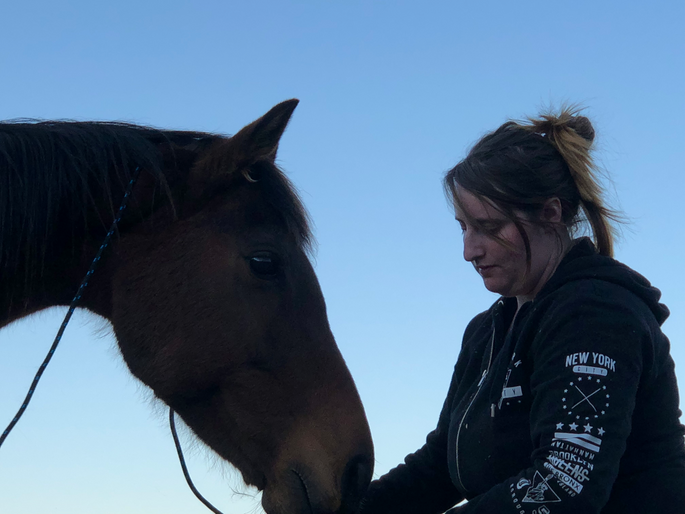 Above: Tamsin with rescued horse Enya, on the day she arrived at A Place of Peace.
Here's How You Can Help
Please donate today!
By joining our family of regular donors or just by pitching in once, you'll make a huge difference to this sacred sanctuary of peace.
Click the Donate Now button, choose your amount, then select weekly, monthly, or yearly if you can. (We're grateful for one-offs as well.)
Your donation goes directly to food and water for animals. It's a huge task in these unprecedented times and we can't do it alone.
Giving up is not an option. The animals are depending on us more than ever. And we're depending on you.
Thank you for your support, your kindness, and your generosity.
If You Prefer Direct Deposit
If you'd rather make a direct donation, the banking details you need are:
Account Name: Billie Dean Deep Peace Pty Ltd ATF Billie Dean Deep Peace Trust
BSB: 633000
Account No: 146808878

Alternatively you can head over to our website and check out more about us, these beautiful animals, and how to give reoccuring donations that way!
Thank you, thank you, thank you!
What It's Been Like
Some pictures to give you a sense of how things have been.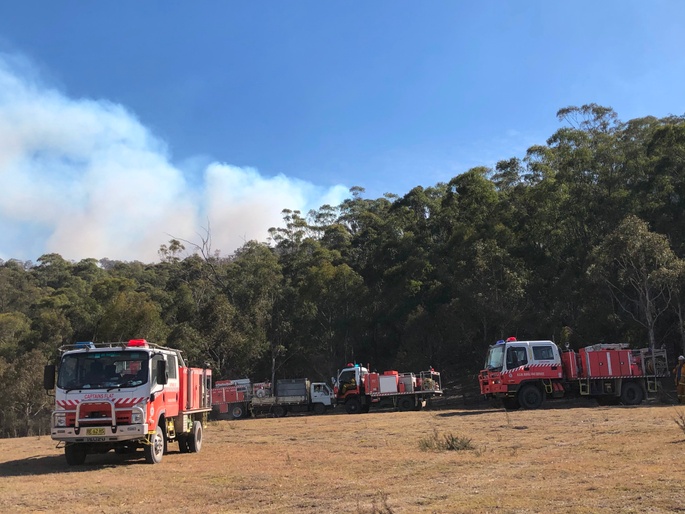 Above: ten bushfire trucks arrived to help stop a disaster.
Below: our burned bushland and paddock.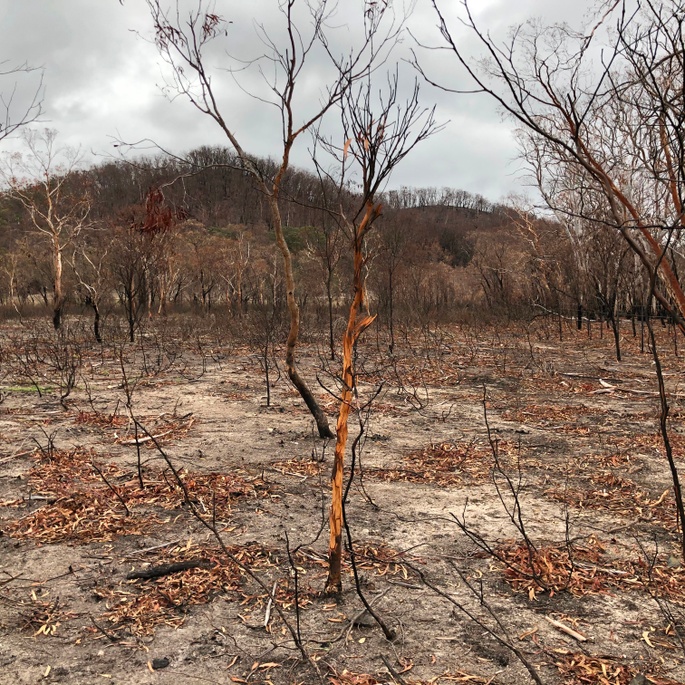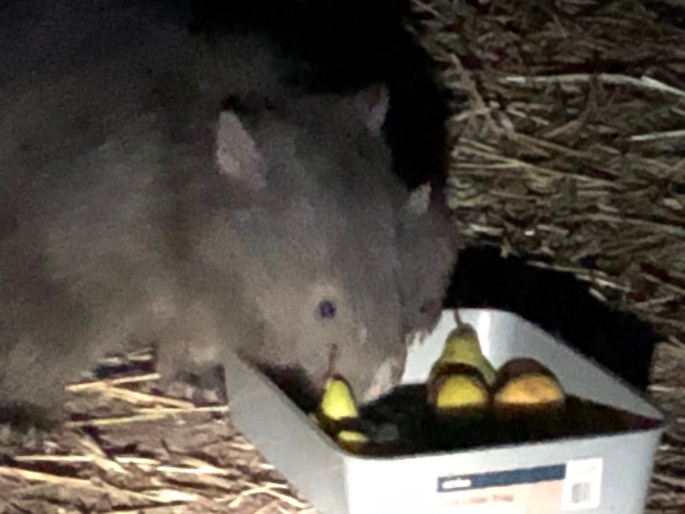 Above and below: some of the native animals we're still feeding months after the fires, since there's not enough regrowth for them after fire and drought.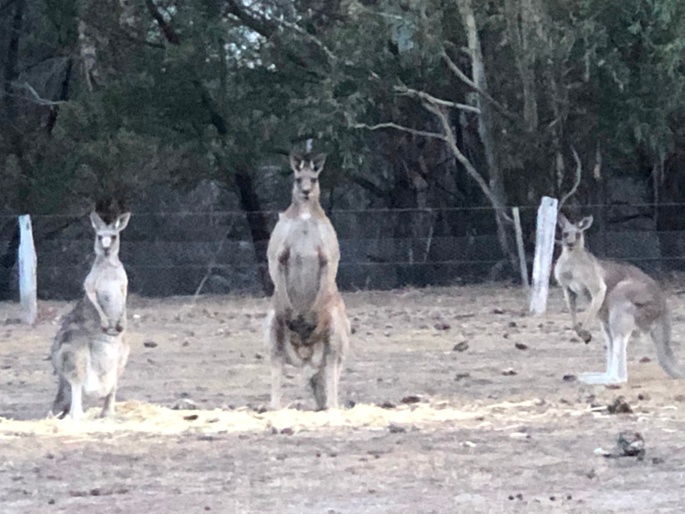 Below: flash flooding, the first of three flooding events in less than two months.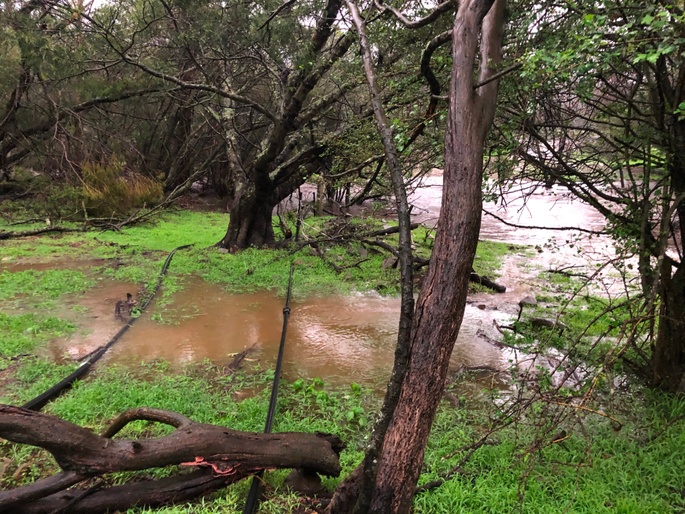 About The Deep Peace Trust
The Deep Peace Trust is a not-for-profit social change organisation which runs A Place of Peace, a sacred sanctuary based on ancient spiritual principles, offering safety, peace and rehabilitation to its hundreds of farm animal and equine residents and also offering protection and refuge to an abundance of wildlife, and wild animals needing safe harbour. The Trust currently cares for around 500 souls cows, sheep, horses, goats, geese, cats and dogs, making it the largest in the southern hemisphere.
Co-founder Billie Dean is the only known vegan animal shaman in the world. She uses her gifts of telepathy and healing for animals, alive and in spirit, and has done so for over 40 years.
Below is a rare pic of us—Andrew and Billie, and our daughter, Tamsin—who run the Deep Peace Farm Animal Sanctuary. We and all the animals thank you for your support!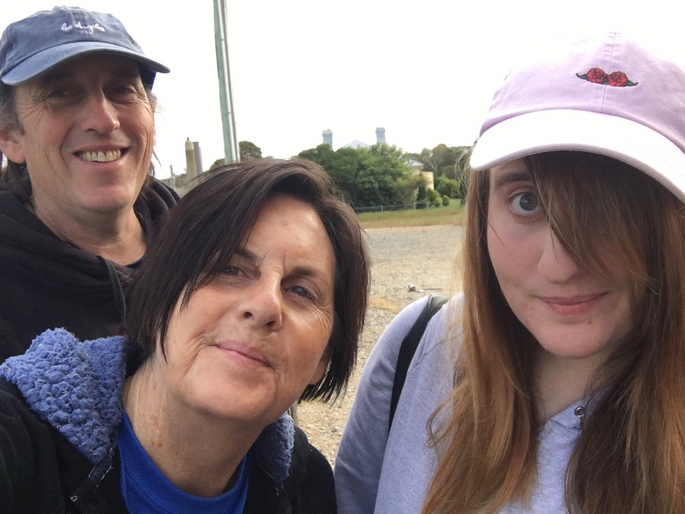 The Billie Dean Deep Peace Trust is registered charity with the Australian Charities and Not-for-Profit Commission (ACNC). Charitable Fundraising Number CFN/22658.