***UPDATE 28/04/20: Thanks to everyone for coming together to buy us the new van. We did it! The van has been purchased and as soon as we are able to collect it (when pandemic restrictions ease) the conversion will begin. And extra raised will go towards kitting out the new library space and books for our readers. Thank you everyone - you are amazing ***
'It is amazing - why does no one else do it? It is such a good idea, and so magical, something I can do myself, just for me. It must be so hard to find these books, I am so excited every time you bring new ones. Can I take three books, just this week?' - Young female Afghani user of the library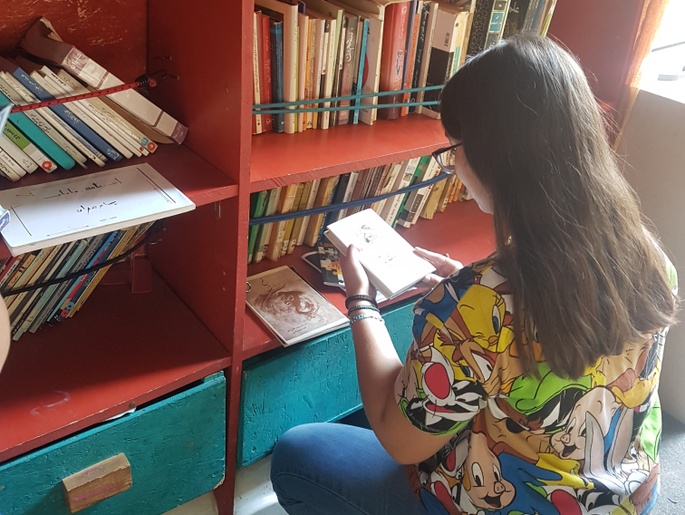 Where the library goes
Refugee camps in Greece
There are currently 115,000 refugees in Greece. Many are trapped in an asylum system that puts lives into a state of paralyzing insecurity and deep boredom. Isolated by a government that describes them as 'dirt', 'dust', and 'parasites', most are forced to live in peripheral camps far from the towns and city centres.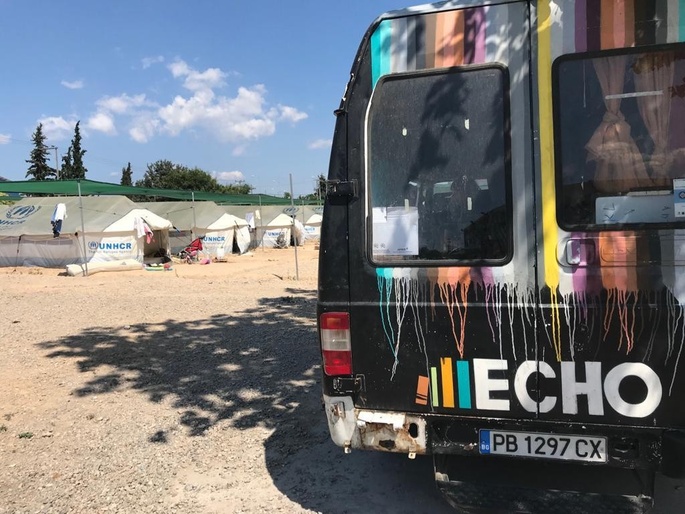 In five of the locations our library visits, it is the only source of education for adults. Meanwhile, less than 50% of school age children in these locations are in school. In these deplorable and ostracising conditions, both hope and relief can be hard to come by.
What ECHO library does
The ECHO mobile library travels 450km to 11 locations in and around Athens each week. We have; books in 13 languages, learning resources, lessons, whiteboards, rugs, tea and structured children's activities.
The library is a welcome space of respite
In the library, you are not asked for your ID number, or a credit card. On our shelves you can travel to nineteenth century North America through a Turkish copy of Little Women, to postcolonial Sudan in Arabic or to Hogwarts School of Witchcraft and Wizardry in Farsi.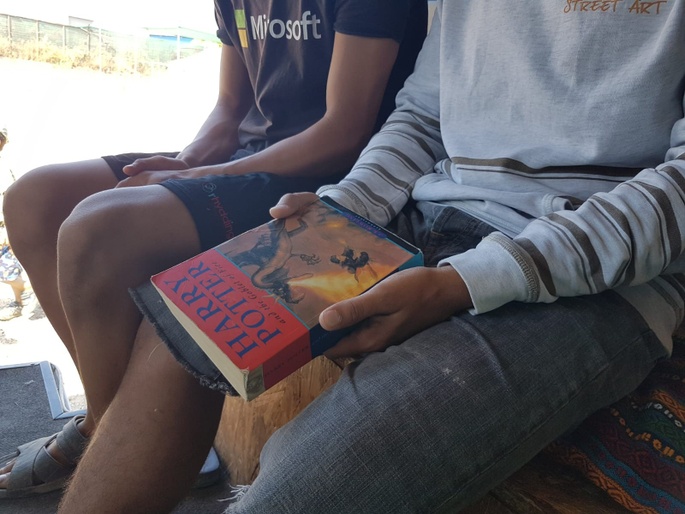 Three hundred people use the library each week. Many borrow books, switching in finished copies for fresh ones for the week ahead. Others use our language learning resources to get a grip on basic Greek, English or German. Some chat to members of the team, swapping languages, life skills, and stories. Our children's sessions provide a basic educational space - and an injection of high-energy fun - that familiarise hungry minds with books and reading and prepare them for school environments that they will hopefully find themselves in soon.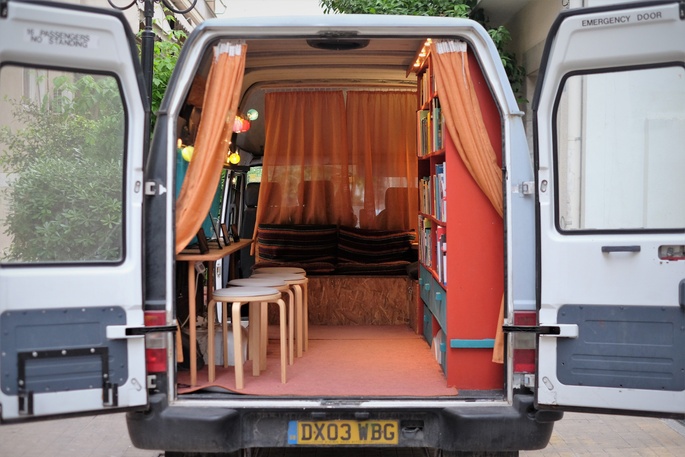 Inside the library you will find:
Over 500 books in ten languages

Over 100 childrens' books

Language learning resources for self-study

Comfy seats inside for chatting and browsing

Tables, chairs and tea for a pop-up community space
How you can help
Our faithful old library van is on the edge of collapse. It is twenty years old and has seen more than 200,000km on the road. Breakdowns have cost us three days of library sessions in two months - and we've been told that the next will probably be its last.

A new van
We have found the perfect replacement van - a second-hand 2013 Ford Transit, with Euro 5 emissions standard. This van will be able to drive safely and legally everywhere we need to go.
The costs
We need to buy the van itself, the taxes, and invest in materials for the conversion - wood, insulation, new upholstery and pay an electrician. Here's the breakdown:
Van -

€

9,120

VAT -

€

2,889

Conversion - €2000
The brilliant Thighs of Steel group has given us €6010 already -so we've got €7990 left to go. Any extra we raise will go towards the costs of getting the library to sessions once we're back up and running sessions.
How your donation will be used:
We want to make our library space even better than before. The new design is going to include:
More shelf space

A fold out desk

Magazine racks

Permanent and strong side awnings for weather protection

More games and puzzles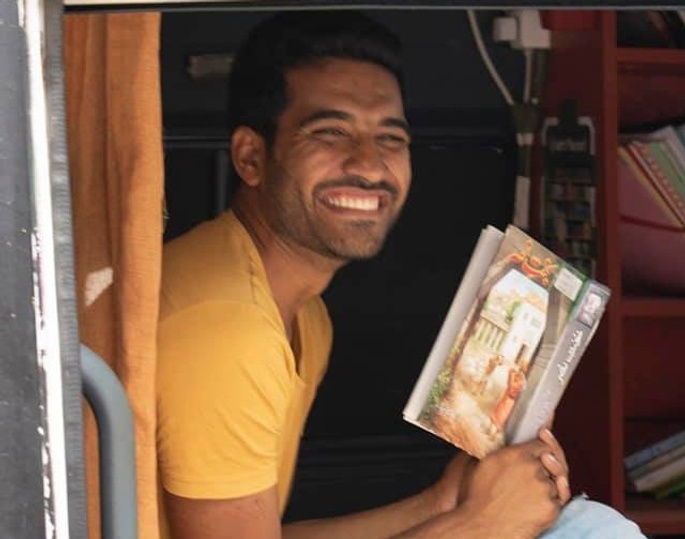 With your help we can get our library back on the road. All donations, no matter how small, help us get closer.
To find out more about the library, check out pieces about us in The Guardian, El Pais, and The National Herald, or head over to the paper that we wrote for the International Federation of Library Associations - "Multicultural libraries in a bordered world."

You can keep up to date with our progress on our Instagram, Facebook and Twitter - #Spreadthewords.
***A NOTE ON DONATION METHODS: you don't need a paypal account to use them to donate - you can use the 'guest checkout' option and pay using a debit or credit card***