A little bit of context
Jimmy's Village School (JVS) has been operating from a family home in Cambodia's Siem Reap since 2011, by one incredible Khmer teacher; Sarath (aka Jimmy).
JVS has been offering free english classes to children within the local area, every Monday to Friday from 5pm.
Yet this is no ordinary English school.....Jimmy teaches from the HEART. You have never met a man SO passionate about education, life, spirituality and the future of his country. Jimmy brings this passion into every single class; forever inspiring his students so much that most of them have dreams to be just like him when they grow up.
Jimmy has been teaching the children in a volunteer capacity for the past 5 years, donating his time and love to these incredible children, and investing in their happiness.
Our charity, Happy Kids Cambodia have been financially supporting JVS for the last 2 years, by covering all school running costs and assisting where possible with health education & promotion.
But there's a problem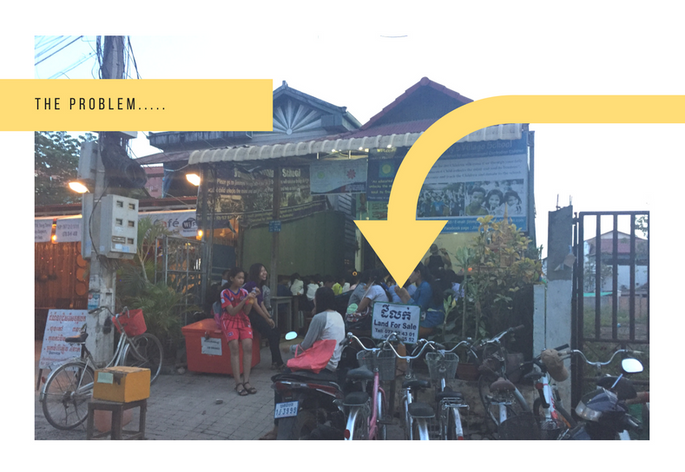 Jimmy's family home is up for sale. Meaning, Jimmy's Village School location is in jeapardy. Our charity would love to be able to purchase land and build a school for JVS to save the school but land prices in Siem Reap are sky rocketing by the minute and this plan would require alot of funding.
We need a solution to this issue NOW, so that we can help save JVS from needing to shut down and so Jimmy can continue this important humanitarian work!
Here's what we're doing about it
We are going to create:
A MOBILE VILLAGE SCHOOL!!!!!
We need to:
purchase a 2nd hand truck
fill it with enough sturdy, stackable furniture to service approx. 50 students
Customise the truck to ensure it has as many features as possible: eg. microphone & speaker, whiteboards, lighting, fans & books
begin paying Jimmy a wage; as the mobile school will enable Jimmy to teach in a full-time capacity (see more below!)
---
The impact:
the school will not have one set location - therefore eliminating the need for purchasing land
current JVS students in Siem Reap will be able to continue to access Jimmy's classes in a mobile location
Jimmy will expand his offer of free English education to the children of the countryside – where his heart lies.
Jimmy will be able to begin teaching English to children in rural areas, with the advantage of the school being mobile – therefore servicing a wider community of students
HKC will be facilitating a wage for Jimmy – he will be converting to full-time teaching work; and a wage will provide a steady income for Jimmy to provide for his family
This mobile school framework allows for potential future employment opportunities for other Khmer teachers like Jimmy, should this model be a success and we may be able to one day have a fleet of mobile schools
We are essentially creating an opportunity for a passionate local teacher, aswell as extending our charitable outreach to Cambodians in rural areas!
We plan to create a basic framework for the operation of the mobile school so that should Jimmy choose not to teach in the future, another teacher could takeover in a smooth transition

Some Q & A's

Q: $35,000 AUD seems alot to carry out a project in a third world country like Cambodia. Why is it so much?
A: All donations will need to be converted into USD to be spent in Cambodia (yep, the USD is the main currency used in Cambodia!) - therefore the amount realistically equates to approx. $27,000 USD.
Q: How did you decide on Jimmy's wage amount?
A: We researched the average wage that English teachers in Siem Reap were being paid, when teaching in an non-government organisation (NGO). We also consulted with the Cambodian Independent Teachers' Association (CITA) for their recommendations.
Q: Will tourists be able to visit the mobile school?
A: In collaboration with Jimmy, we will be creating a structured volunteer program so that visits are limited, monitored and safe. This will ensure minimal interuptions to the students' curriculum but also protect the children from strangers.
Q: Where will Jimmy continue to teach his current students?
A: Until the family home sells, Jimmy will continue to teach the children at his home. After that, Jimmy will park the mobile school in a common location within the vicinity of his village and set-up classes in the evenings to service his current students.
Q: Where will the mobile school live when not out on the road?
A: Jimmy will park the mobile school at his home, and we will be taking out vehicle insurance to cover any risk of theft.
Let's #drive this campaign!
Please share our story with your friends, your family, your work colleagues and even your next door neighbour's best friend's dog's aunty's mum! ;p
@happykidscambodia
#drivecambodiasfuture
#hkc
And here's our entire wish-list for this project and how your dollars will make a difference:
- School tshirts for new mobile school students (our goal is 50 tshirts!) with a brand new logo design
- CHABLEs - a fold-up chair/table combo for the mobile school students to learn from (we are purchasing 50!)
- New student start-up packs - workbook + stationary (aiming for 50!)
- Lighting & electrical connections for the truck(will need 2 to 3)
- Storage customization of the truck
- Solar panels (if feasible!)
- Cambodian government registration of the mobile school
- Jimmy's monthly wage (we hope to raise his first 12months' wage)
- Services of a local Siem Reap accountant to manage the books for us
- A second-hand 3 tonne truck
- Vehicle fuel costs (the first 12 months' worth would be nice but not necessary!)
- Vehicle Insurance
- Vinyl vehicle wrapping for the mobile school
- A volunteer program coordinator on the ground in Cambodia hired on a casual basis
Thank you for supporting Jimmy's Village School through the Happy Kids Cambodia charity <3