ALL DONATIONS GO DIRECTLY TO DIDI FOUNDATION INC.

What we're up to:
A group of 22 are heading to Nepal to volunteer for The Didi Foundation. The profits from this fundraiser will go towards their educational programs in Nepal. This will include learning programs for disadvantaged women in Nepal and those displaced by the 2015 earthquake. Also two highly disadvantaged schools for marginalised youth. One being a deaf boarding school with 90 students and another school which teaches the child labourers who go to work in the brickyards before and after school.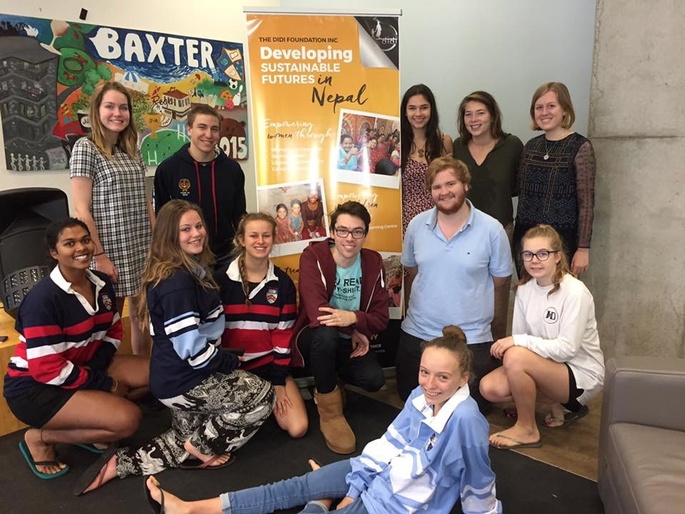 Here's who's coming: Annabel Biddulph, Cachelin Hall, Cameron Jones, Jo Bradley, Joe Miller, Kate Alderton, Laura Johnson, Melissa Monroe, Monica Li, Nina Cradick, Sam Medway, Sarah Davis, Sureesha Mosquera, Tess Roden, Veronica O'Mara, Bill Peterson, Will Cook, Rhiannon Harvey, Claire O'Mara, Gabby Wells and Yvette Mascarenhas
For the remainder of the year we are working to raise money for the foundation through a series of fundraisers and also through sponsorship.
About the Didi Foundation:
The Didi Foundation Inc. is a highly respected, registered charity in both Nepal and Australia since 2013. The 2015 earthquake in Nepal, the Didi Foundation Inc and our NGO Didi Foundation Nepal has worked tirelessly to support disadvantaged women, children and communities affected by the earthquake. Our measurable successes:

Didi Headquarters: Our women's centre runs life skill courses (literacy, sewing and computer training) which empowers women with opportunities to develop sustainable and employable futures
Rebuilding of a remote school that was destroyed by the earthquake and we supply annual educational resources. This school is in a remote area and very disadvantaged community. (attendance has improved by 80%),
Free maternal and child health programs with a focus on reproductive and sexual health.
Bright Future Learning Centre is a safe home for children who were at risk and now live in a safe and clean living environment with nutritious food and are now top academic students in their private school.
Our outreach programs include: Sindhuli Deaf Boarding School, Jagriti School and Ramechhap Primary School.

Please help us support the Didi Foundation in creating sustainable futures in Nepal.
Visit the Didi Foundation here: www.didifoundation.org.au