What is Crisis Classroom?
Crisis Classroom delivers educational activities and training to people who cannot access traditional schooling and the volunteers who work with them every day. We work side by side with people who speak different languages, have diverse backgrounds, skills & cultures and who are often suffering the effects of trauma. We create safe spaces where people can learn together, live together, hope together and begin to build better futures together and all this wonderfulness comes out of one little van, like magic!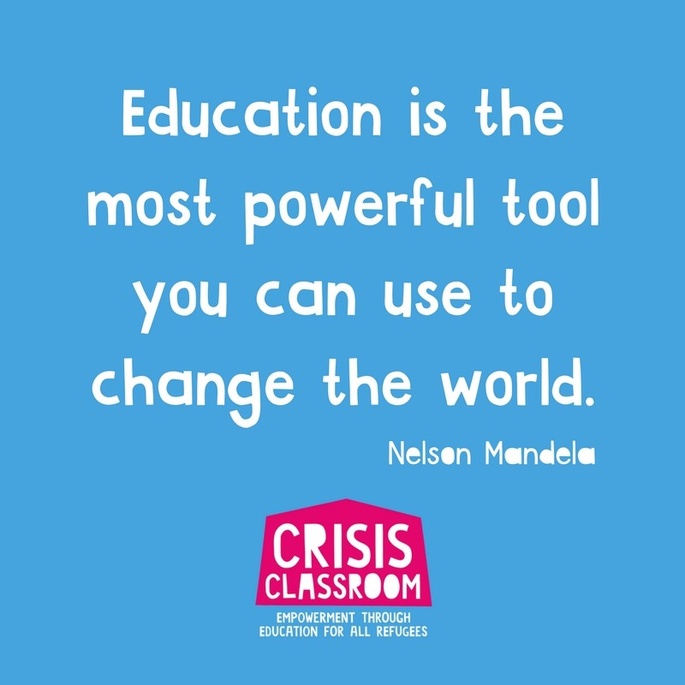 Why Education? Why not other humanitarian aid?
Currently there are over 65 million men, women and children who cannot live in the place they call home. They are far away from their support networks, families and safety. Many are travelling with just the clothes on their backs and their life-line essentials. Crisis Classroom finds them on their journey and offers a way for them to stay connected to their dreams, to learn new skills, to pick up new knowledge & language and to feel like a little bit more like themselves again. Education is a basic human right, yet during times of war and disaster, when people are fleeing danger and without access to formal structures like schools, it is almost impossible for it not to be interrupted or to cease completely. With Crisis Classroom people are able to continue to learn, to dream and work towards a brighter future, even in the darkest of times. We also support the volunteers who work with them every day so that they continue to get the best support available. This combined approach means that learning can be delivered safely and effectively, to everyone who wants to learn, wherever they are.

We go to town centres, refugee camps, roadsides and camps in forests. Since 2015 we have been working in partnership with the people we meet in each place. We find out what they want to achieve and we build solutions with them, not for them. Each solution is unique to the situation, the people and the skills they already have between them. Together we learn everything from survival skills to carpentry to web-design. Every time someone takes part in a Crisis Classroom activity they aren't just learning subject content, they're gaining fundamental skills for life; like how to talk to people they meet and get what they need, work in diverse teams, transfer knowledge to new situations and take control of their own destiny. Investing in someone's education is an investment in making the world a kinder place for us all. Some of our students go on to become educators themselves and support new arrivals to camps, welcome centres and towns.
How can you support what we do?
It costs £1500 per month to keep the Crisis Classroom out on the road. We reach 1000s of people each month in this way. You can see the impact of our work so far on our FB page and our website. We spend funds raised on running costs and educational resources such as ingredients for cookery lessons, materials and essentials like stationery. As much as possible we spend your money in the local economy. It's tough living in a place where there is so much human hardship so we do what we can to make this a mutually beneficial endeavour. All our teachers are skilled and trained volunteers. Behind the scenes we coordinate trainings, resources and support our volunteers in their work. We have helped communities to build a school by hand, breathed life into small enterprises, taught people recipes and ways of cooking that nourish the body and soul and keep them feeling human, cared for and special. We offer training to volunteer organisations working in the most difficult of circumstances and we share our expertise to enable them to make learning more accessible to everyone, no matter who they are, no matter where they come from, no matter what.
When you contribute to this campaign you become a part of The Human Hive; a global collective of humans working together to make the world a kinder place for us all. The Human Hive is a place were everyone belongs and is welcomed. No idea is too innovative, no donation too small. Every contribution powers the Crisis Classroom and changes the lives of the people it meets along the way. Please use one of our lesson plans and learn something new yourself, invite your friends & colleagues to take part and raise awareness and funds to pay forward that experience for a refugee on the road, in a town, somewhere in Europe. Learn something new. Pay it forward.
"Never doubt that a small group of thoughtful, commited citizens can change the world. In fact, it is the only thing that ever has." Margaret Mead. Thank you for reading. Please share our story, contribute if you can and remember to take good care of yourself too. It's Refugee Week 19-24th June, please do whatever you can to support them.