A little bit of context
Cranky's FARM is an Australian registered charity dedicated to the rescue, protection and ongoing care of farmed animals.

Currently we are home to more than thirty rescued farm animals, including eighteen adult cows, two calves, two adult donkeys, nine adult goats and a family of free-ranging pigs.
Cranky's is situated on 200 acres of beautiful Australian bush located near Stanthorpe in south west Queensland.
But there's a problem
The south west of Queensland is currently experiencing its longest and most devestating drought in recorded history and Cranky's is located in one of the worst hit areas.
Day Zero (the day the dams run dry) for Stanthorpe is expected around December. Day Zero for Cranky's has already passed.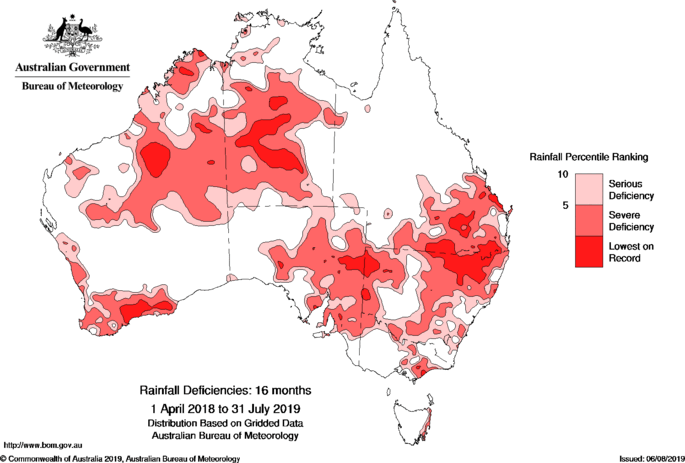 Ten years ago when the property was purchased with the vision of providing a loving, safe and exploitation free life for farm animals the council run dam was huge and brimming. The Cranky's property itself had two beautiful, large dams; one run-off and one spring fed.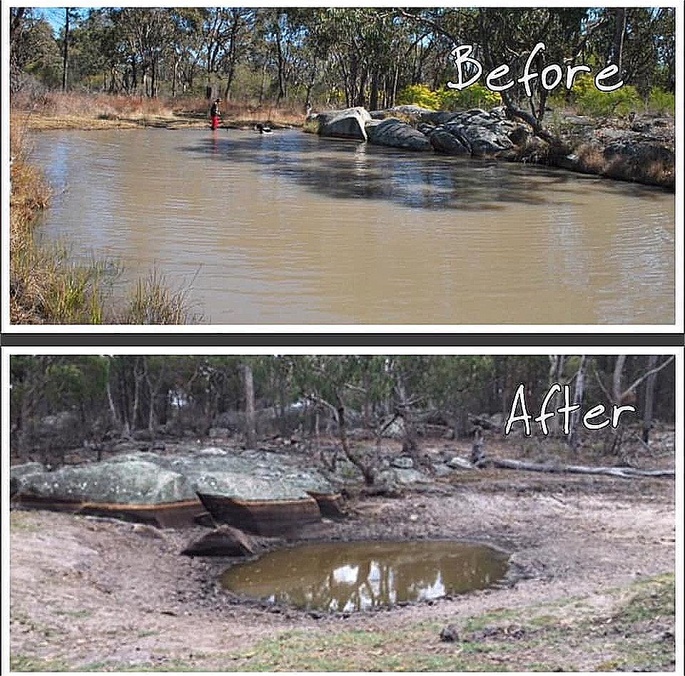 Above is our run-off dam. The top picture was taken in 2012 and the bottom was taken a few months ago. The dam is now completely dry.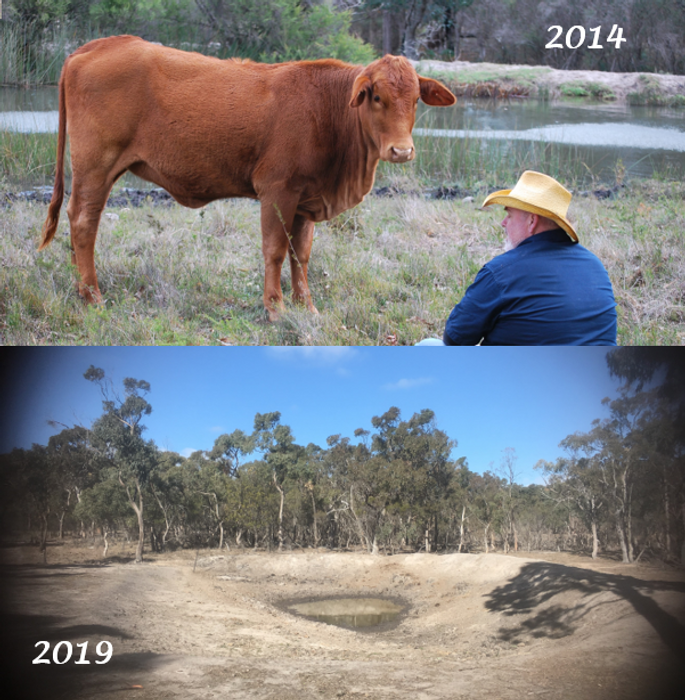 Above is our spring-fed dam. She held out as long as she could but eventually the water table dropped so low she could no longer replenish herself.

Due to this unprecendented, catastrophic situation, Cranky's FARM is currently unable to take in any new residents. Weekly we are asked to help save a life, give a home to an animal in need and we are now unable to help. This is devestating to us, heart-breaking to those people seeking our help and a potential death sentence to those in need of rescue.

A further issue for us is that we are unable to purchase drinking water for the residents from any water source administered by the council and within the local council area. This means that we are forced to purchase water from a carrier almost 200kms away.
Here's what we're doing about it
Cranky's FARM must now undertake a water security infrastructure project to keep our current residents alive and to put us back into a position to be able to stop turning those in need away.
The first phase of the project is to drill for water. We have sought multiple quotes and have been on the waiting list for 3 months. We have been told that, hopefully, they will get to our job BY CHRISTMAS.
The second and third phases of the water security infrastructure project will be to build water catchment structures with adjoining water tanks, and dig/re-dig dams to be ready should any rain eventually fall.
Moving to a different location is not an option. Cranky's FARM does not rent the property the current residents call home. The property was purchased 10 years ago, when the region had not experienced, or expected, a drought so devastating with the intention of providing a safe, forever home to farm animals in need.

You can join us
We are hoping and asking for concerned people to help us finance this crucial water security infrastructure project. Quotes for the drilling, estimate the cost of a 50 m bore to be $10 000 but that is only if they find water in the first borehole. The water catchment sheds, tanks and dams have not been quoted yet but previous estimates for two dam re-digs and 2 water tanks with adjoining catchment sheds will be another $10 000.
Why are we asking for your help?
Currently, and as a further consequence of the drought, the cost of purchasing 100% of the current residents feed is approximately between $4000 - $4500 a month. That does not include the costs of now having to purchase their drinking water. This cost is currently coming from the pockets of our Board members. This amount also does not include property maintence and upkeep, veterinary bills or other sundry farm animal sanctuary running costs like petrol, merchandising and administration, etc.

Our current income from sponsorships/donations and other fundraising events is approximately $3000 - $3500 a month. For this income we are overwhelmingly grateful as we would not be able to continue to care for our current residents without it. All other costs are currently covered by our Board members.
All Australian charities are required by law to report on their finances and provide an Annual Report to the Australian Charities and Not-for-profits Commission (ACNC) at the end of every financial year. Cranky's has not yet published its reports for the financial year just ended, however, the previous year's reports are available on the ACNC website (https://www.acnc.gov.au/charity).

In the aim of complete transparency, however, if you would like any information on our financial situation; income, expenses, fundraising activites, etc for the 18/19 financial year before we are able to publish on the ACNC website we encourage you to get in contact with us at [email protected] We are more than willing to answer any questions and provide you with further information should you require it.
What we are hoping for?
What we are hoping and asking for is that as many people as possible will donate a small amount of money to help us on our way towards our minimum goal of $10,000. $5 - $10 from only a few hundred people will get us approximately halfway to our minimum goal.
Cranky's FARM water security infrastructure project is crucial and our fundraising campaign will be running for as long as required to secure water now and into the future for our current residents and those who will come to call Cranky's home.

Update and phase 1(b)
Drilling for the bore took place over two days, 24 and 25 August 2019.
At the end of day one we had found a trickle of water.
At the end of day two we had found a little more.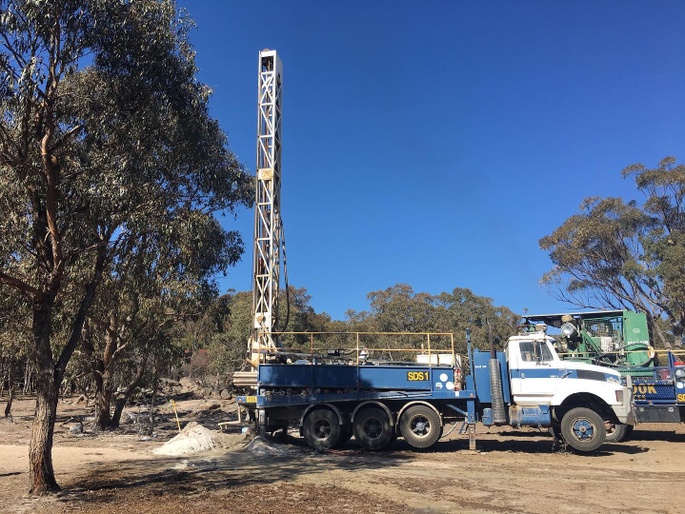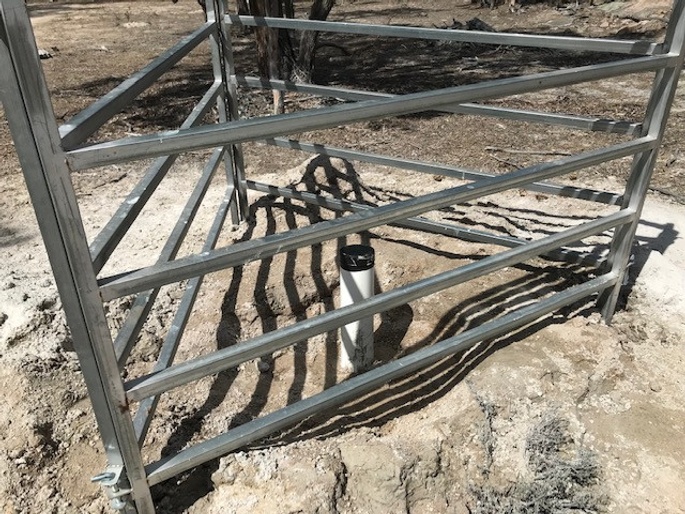 Whilst we are thrilled to have found water, and happy that it should be enough to hydrate our current residents without us having to regularly puchase water, the amount is such that we will have to have a pump running all day in order to extract the required amount of water.

This will have to be a solar pump with top and bottom sensors that will pump the water into a tank attached to a trough.
We are receiving estimates for this pump and preliminary quotes have the cost of the pump at around $10,000! We are now desparately seeking an additional $5,000 towards this cost of the required solar pump.
WHERE ONCE THERE WAS GRASS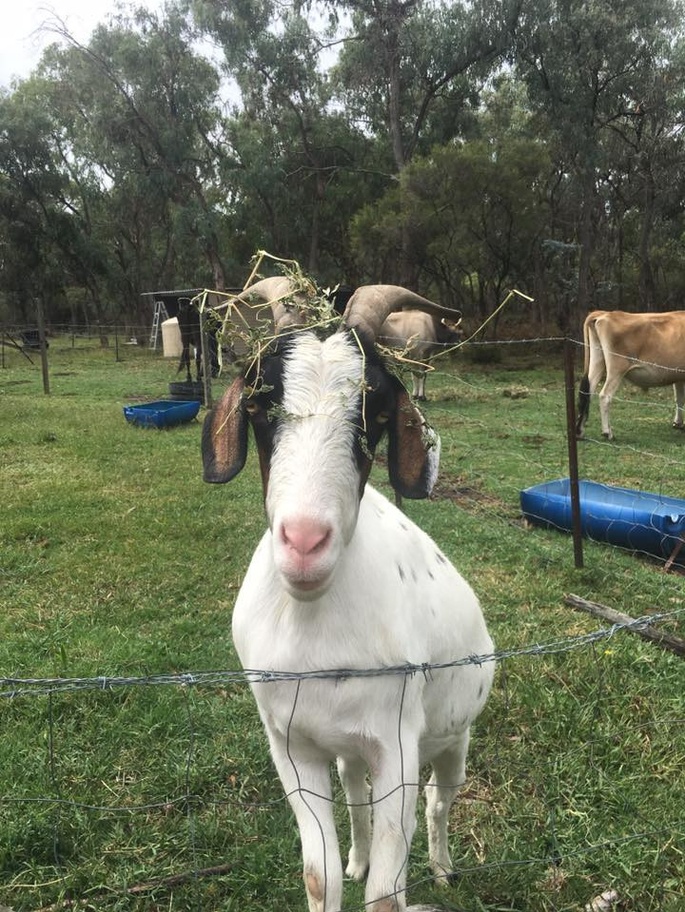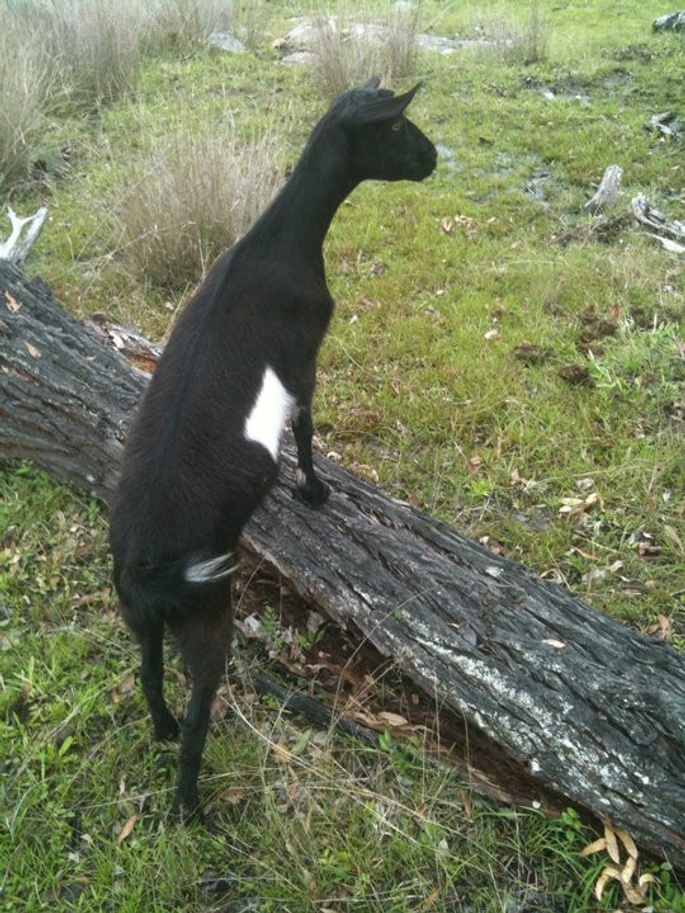 NOW THERE IS ONLY DIRT