Donate today and help us kickstart a self-sustainable Alumni network for graduates of the Media Development Foundation's regional journalism programs!
Media Development Foundation (MDF) is a non-profit that supports independent media in post-authoritarian countries, primarily in Ukraine. Our programs focus on bottom-up work, mostly with regional media, to build their editorial and managerial capabilities – to make them both compelling and financially sustainable.
Since 2014 the MDF has secured 300 internships for early-career journalists at leading national media and trained over 500 journalists and media managers (the overwhelming majority from outside Kyiv).
Importantly, we continue to inspire countless more – receiving over 6,500 applications for our programs (up to 35 applications per spot for the most competitive programs – on par with Harvard!) – making them among the most regarded in the country!
Our alumni are young, driven and idealistic individuals ready to make change happen. They work in media, public sector and private organizations across the whole country. While we do our best to maintain contacts and provide mentorship, the numbers are simply growing too big!
We are building a network across Ukraine to support our alumni – provide career support, hold networking events, and invest in continuous training. To kickstart this network, we will need to hire an Alumni coordinator, select regional representatives and fund events. We plan to make this network sustainable over time as our currently young Alumni progress in their careers and can contribute to supporting the next generation.
Your donation will help empower these future leaders!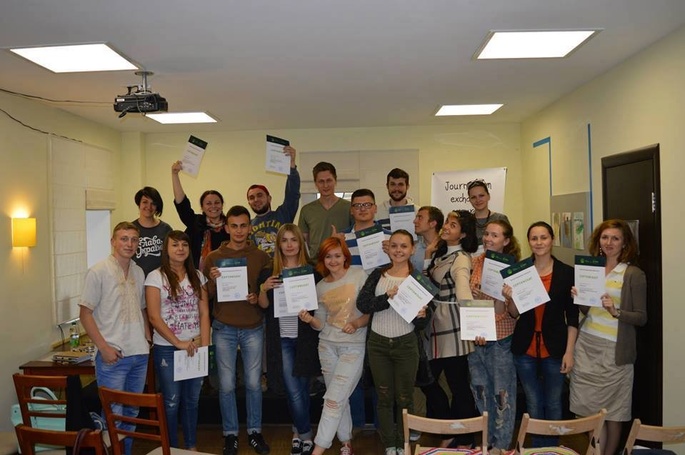 Background
For over two decades Ukrainian journalists have battled authoritarianism and corruption that has held the country back. Their professional and objective reporting has forced reticent state authorities to act, and shaken citizens out of their apathy to change the country for the better.
While great progress has been made in building independent and sustainable media, this proved to be more challenging particularly in the regions that do not benefit from the capital Kyiv's spotlight and access to resources. Regional media often lack the skills and means to effectively tackle local corruption and roadblocks to growth, and are far more vulnerable to pressure.
But the story is changing...
There is a growing pressure from the young generation to no longer accept yesterday's problems as a given. Helping such idealistic young leaders make their path and change the media landscape, is one of the most effective ways to make both society and the economy stronger.
The Media Development Foundation believes a vibrant and free media is critical to social, political and economic development, particularly in post-authoritarian states. We provide the tools and training needed to make media strong, and help newsrooms find sustainable ways to grow.