We're back!
Your Australian vegan yearbook is back and we can't wait to deliver it to you.
In case you're new to the AVJ world, here's a recap:
Australian Vegans Journal is an independent, ethical vegan publication with articles written by vegans from across Australia.
It's about ideas.
Leadership.
How we can collaborate to accelerate the progress of veganism.
The ways we can be more effective, smarter and more strategic, in order to reach the hearts and minds of people.
It's the thinking vegan's journal.
It's the pioneering vegan's journal.
Together we have created a journal that informs, inspires and supports vegans and those looking into adopting veganism.
Contents of Volume Three

It's AVJ Mini!
We are calling this volume 'AVJ mini' because it's a more condensed version of our standard magazine. It's the same level of high quality articles and photography, just with less pages to make it a light and easy read to suit the busy modern lifestyle. AVJ Vol. 3 will be approx. 45 pages.
We've cut out the advertising too. We do still want to give vegan businesses and readers a chance to connect and find each other, so we've allocated one page for a vegan business directory. This directory is now SOLD OUT.
We are beyond thrilled to have Dr Ash Nayate on the cover of this issue. Ash is a neuropsychologist and a passionate animal activist; a regular participant in rallies and forums on veganism and animal rights. Ash is joined by Fleur the calf. Isn't she lovely!
Here's what Australian Vegans Journal vol. 3 will include:
On the Cover
Interview with Ash Nayate
Health
Interview with Olympic gold medalist Stephanie Rice (and yes, she's vegan!)
Vegan event organising in Australia -- Lucy Stegley
Five Nutrients You Need To Consider When Following A Vegan Diet -- Kiah Patz, accredited practicing dietician
For the Animals
Interview with Kangaroo filmmakers Kate McIntyre Clere & Mick McIntyre
Young Voices for Animals -- Harley McDonald-Eckersall
Heroic Acts of Forgetting -- Sam Teague, sociologist
The Dominion Animal Rights March report -- Corey Thompson & Robyn Payne
Indigenous
The Truth about Kangaroo -- A Conversation with Aunty Ro Mudjin
Business
Five Key lessons from 100 Vegan Entrepreneurs -- Katrina Fox, Vegan Business Media
Interviews with vegan business owners -- Susie Sierra (Sierra luxury face oils) and Julie Mathers (Flora & Fauna)
Politics
Interview with Australian senator Lee Rhiannon
Interview with Animal Justice Party candidate Louise Pfeiffer
Education
Raising Children Who are Vegan For Life -- Dr Ash Nayate
Communication
Vystopia: A Way Through the Pain, Towards a Vegan World -- Clare Mann, psychologist
The Joy of Writing -- Mem Davis
Recipes
Delicious and simple mylk recipes -- Kris Goetz
Travel
Australia's First Plant-Based Cruise Sets Sail
Emily Steckelbruck
Rave Reviews
Beauty and food reviews (Cherry Brown, Sniffy Scents and AVS Organic Foods) -- Tamsin Dean Einspruch
San Churro review -- Martin Jurica, vegan chef
Lord of the Fries breakfast menu review -- Anna Price
Domino's Do Vegan Cheese -- Kathy Divine
Like what you see? Buy it today!
If you like what you've read, we invite you to click on a perk and buy printed copies of Australian Vegans Journal.
Reviews from our Facebook page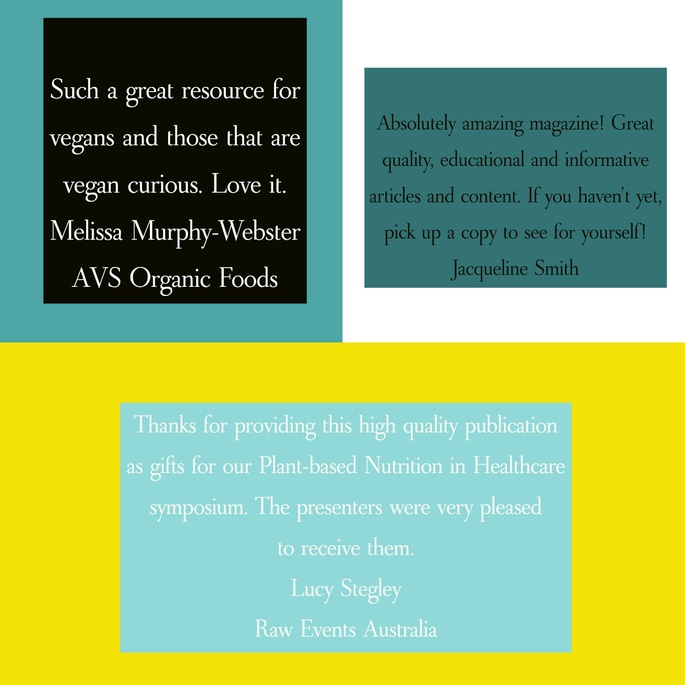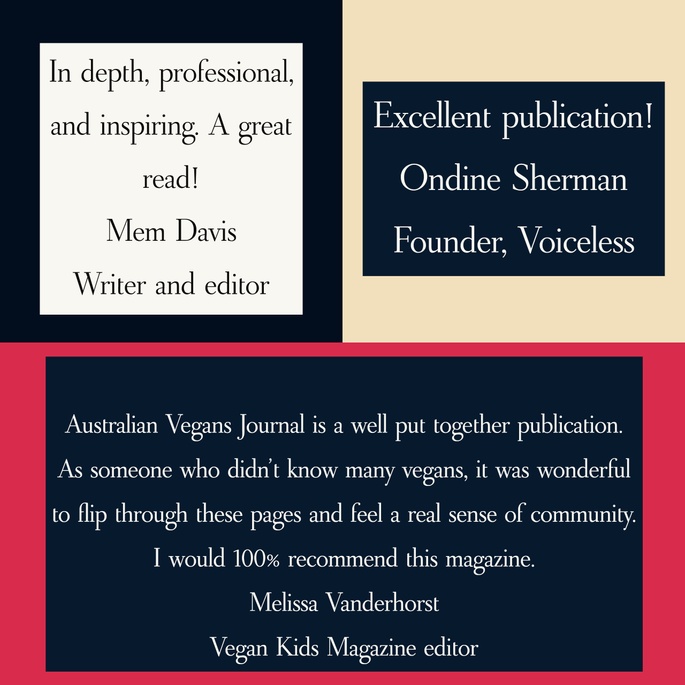 A big part of what we do is vegan outreach. We will be sending copies of AVJ vol. 3 to members of parliament, the mainstream media, corporates and other influencers. We also distribute free printed copies to doctor's waiting rooms and other public places so non-vegans can check it out.
If you can share our campaign with your friends on social media that would be awesome! Thank you!
Thank you for reading!

If you have any questions or media requests, please email [email protected]
Our website: www.AustralianVegans.com.au
**estimated delivery of printed copies is August 2018
**We send regular email messages to keep everyone in the loop regarding delivery timeframes.
**Please email [email protected] if you are outside of Australia and wanting to purchase print journals.