Update!
We have a new issue of the magazine out now!
Australian Vegans Journal No. 3 is ready for pre-order.
Click the link to grab your copy:
https://chuffed.org/project/avj3
Update 6th June 2017
We've posted out all of the single purchase AVJ #2 perks, Get The Set perks, Book and magazine combo perks. Overseas orders will be posted tomorrow as well as multiple AVJ#2 orders.
Thank you for your amazing support!
We have kept this page active for anyone who has just discovered our project and wants to purchase a perk.
From the whole Australian Vegans Journal team, a HUGE thank you for supporting vegan independent magazine publishing. You're the best!
Firstly, thank you ...

Thanks to everyone's great support of the launch of Australian Vegans Journal last year, we are back with volume two! Yay! We cannot express enough our gratitude for the amazing support for volume one. We've SOLD OUT and are now ready to sell volume two. Read on to see what volume two will include...

What is Australian Vegans Journal?

In case you missed the memo last year, here is a brief overview of what we are doing: Australian Vegans Journal is an independent, ethical vegan publication with articles written by vegans from across Australia.
It's about ideas.
Leadership.
How we can collaborate to accelerate the progress of veganism.
The ways we can be more effective, smarter and more strategic, in order to reach the hearts and minds of people.
It's the thinking vegan's journal.
It's the pioneering vegan's journal.
Together we have created a journal that informs, inspires and supports vegans and those looking into adopting veganism.
Contents of Volume Two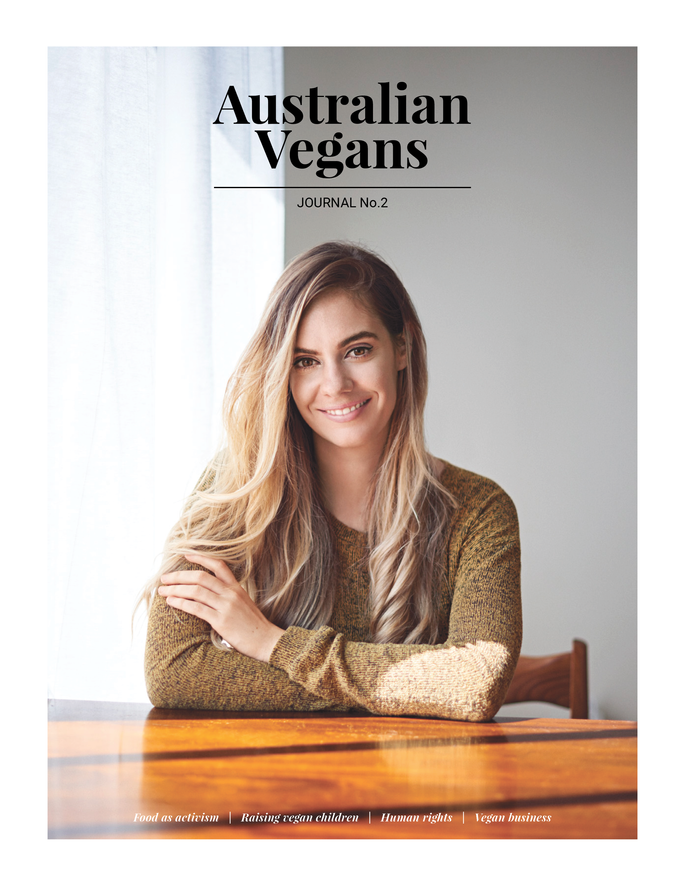 Volume two of Australian Vegans Journal is a very special, powerful collection of articles and images from a diverse cross-section of the Australian vegan community. We are absolutely thrilled to have Ashley Avci as our cover ambassador for this volume as she is a highly effective, passionate animal activist as well as a highly intelligent ethical leader. She emodies the values and qualities we seek to share with the world through Australian Vegans Journal, and so couldn't be happier that she said "yes" to the cover and the interview we did with her! We hope you enjoy reading her inspiring words too.
Here is the complete contents of AVJ vol. 2:
(It's 80+ pages of super content. No fluff, all good stuff).
On the Cover
Interview with Ashley Avci
Health
Raising Children Vegan: An Interview with Robyn Chuter Part 2
Reviews Of Walking Into the Light: Diary of a Vegan Diabetic
Fitness

From the Police Force to the Pyrenees -- Jan Saunders
Policy

Reducing Australia's Public Health Burden -- Michael Dello-Iacovo
For the Animals

Country Vegan Outreach -- Renata Halpin and Mo Orr
The Billy Simmonds 'Strength in Kindness' Australian High School Tour -- Nadia Schilling
The Dos and Don'ts of Running an Animal Sanctuary -- Bede Carmody
Standing Up For Animals Around Australia: Pig Vigil Report -- Corey Thompson (Animal Liberation Victoria)
Business

Simple Ideas To Consider When Thinking About Your Brand -- Sara Kidd
Intersectionality and Business -- Katrina Fox
Interviews with vegan business owners: Anita Ahmadizadeh (Financial Philosophy), Cassie Heneghan (Seeds to Feeds) and Rachel Walker (Chilli Couture)
Vegan Collective -- Chris Rowe and Kate Jones
Community

Vegan Life -- Glenn Flanagan
Indigenous

Interview with Nikita DeThierry
Non-Profits

Give the Government a Piece of Your Mind! -- Greg McFarlane
Human Rights

The Veiled: Intersectional Veganism from a Filmaker's Perspective -- Glenn Fraser
Environment

Climate of Cruelty -- Michael Koenig
Review: Cowspiracy -- Colleen Hilditch
Creatives

Artist Jo Frederiks interview
Eco Fashion Designer Lily Cardis interview
Intersection Documentary Maker Kirsten Leiminger interview
Mindset

Why We Need Hope -- and How to Maintain It -- Michelle Gravolin

Motivation -- Ash Nayate
Communication
Thriving as a Vegan -- Clare Mann
Recipes

Delicious recipes by Nicole English (from Raw Kiwi), David Nightingale (from A Fist Full of Hummus) and Nouha Salim (from Lebanese Vegan).
Eco Fashion

Interview with Justin Mead from Vegan Style

Gardening

Veganic Gardening Tips -- Sue Torlach
Rave Reviews
Chocolate reviews by Tamsin Dean Einspruch (Chocolates are from The Chocolate Yogi and Decadent Handmade Chocolates)
Turning Points in Compassion review -- Jeanette Woolerton
Like what you see? Buy it today!
If you like what you've read, we invite you to click on the buttons on the right and buy printed copies of Australian Vegans Journal.
Thanks to the support of our advertisers and those who buy printed copies, we are able to provide the digital version for FREE via www.ISSUU.com. Whoever contributes to the campaign will be sent a message with a link to the digital version as soon as it is available. Everyone can access the digital version for free, so share the link with your friends! (Estimated digital launch is late March 2017)
A big part of what we do is vegan outreach. We will be sending copies of AVJ vol. 2 to members of parliament, the mainstream media, corporates and other influencers. We also distribute free printed copies to doctor's waiting rooms and other public places so non-vegans can check it out.
The more printed copies we sell, the more outreach we can afford to do. If you share our vision of a vegan world and like what you've read here, please buy a printed copy or two.
We print on 100% recycled paper using veg-based inks with a printer who prides themselves on their commitment to sustainable and fair trade practices. Considerable time and effort goes into sourcing sustainable suppliers at every step of production.


Lastly...

We would like to thank our sponsors for coming on board for volume two. All sponsors are vegans who run 100% vegan businesses. We save all our sponsored ad space for them as we treasure the commitment these businesses have to servicing the Australian community with their ethical products and services and their commitment to being vegan themselves. We have limited sponsor spots left for volume two. Please see the perks opposite for details. To apply, you must be vegan yourself and run a 100% vegan business.
A big thanks to the following sponsors and supporters. Please support them if you can:
Velvety.com.au
Vspot.com.au

My Baby Cakes
Cruelty Free Super
Cherry Brown
VivaLaVegan.net
GoGo Vego
AVS Organics
More Than PKD
Financial Philosophy
Forward Thinking Design
The Happy Apostrophe
Fry's Family Foods
Earth to Table Cafe
Communicate 31 (Clare Mann)
Vegan Business Media (Katrina Fox)
Rob Fordham
Grace Love
Gypsy Wulff

Vegan Festival Adelaide
Vegan Card
The Cruelty Free Shop
Everything Vegan and Vegan Online
Vegan Society NSW
Thank you for reading!

If you have any questions or media requests, please email [email protected]egans.com.au
If you are a retailer, and would like to stock Australian Vegans Journal, please email Kathy for wholesale rates.
We also offer wholesale rates if you buy bulk quantities for other purposes, and especially if you're going to place magazines in public places. Please get in touch.
Our website: www.AustralianVegans.com.au
If you can share our campaign with your friends on social media that would be awesome!
Thank you very much for your kind support!

**estimated delivery of printed copies is late May 2017
**We send regular email messages to keep everyone in the loop regarding delivery timeframes.
**Please email [email protected] if you are outside of Australia and wanting to purchase journals.
**We are in no way connected to the vegan magazine currently using GoFundMe