We're in this together
A Rabbi, a Bishop, an ordained Buddhist, a Catholic nun and a Uniting Church Minister walk into the office of Environment Minister, Josh Frydenberg.
The Adani mine would be a disaster
Unfortunately, this is not the start of a joke. Each of these religious leaders was there to ask the Minister not to allow the Adani coal mine to be built – and to tell him that a $1 billion loan for it would be simply immoral.
The mine, if built, would emit as much carbon dioxide each year as the whole of New Zealand. And shipping the coal would go right through the Great Barrier Reef. This at a time when urgent action to protect our climate is needed.
ARRCC is taking action
Meeting the Minister was one of the many times that ARRCC has brought together people from many faiths to demand action. Because of ARRCC, faith communities have been switching to renewable energy, divesting their money from fossil fuels and joining the campaign to stop the dangerous Adani mine.
Right now, ARRCC is determined to lead people of faith in the urgent task of stopping Adani's reef-wrecking, climate-disrupting mega-mine in Queensland's north. We're gearing up to get people of faith involved in a National Day of Action – and then a National Week of Action later this year. Some faith leaders have now even pledged to oppose the mine by standing in front of machinery if need be.

When we all act together, great things can be done.
And the most effective way of mobilising people of faith to take action on the climate crisis is to employ professional Community Organisers. This year we have done that and it has made a huge difference.
Our Community Organisers have held trainings for people of faith, organised a sit-in and then a meeting with the Environment Minister, published our views in the Guardian, brought faith leaders together to agree on common actions, shown films and promoted climate change action kits for various faith communities.
But we need your help to carry this work on.
We've employed two Community Organisers at different times this year – Angela Merriam and, more recently, Tejopala Rawls. They have both proved invaluable. Now we'd like to pay both of them to work together as a team.
You can join us in making a real difference
For just $18,000 we can hire both of these wonderful organisers for five more months. That will make a huge difference as the campaign against the Adani mine intensifies.
Angela Merriam has worked as a public policy researcher, an advocate and an organizer for Quit Coal.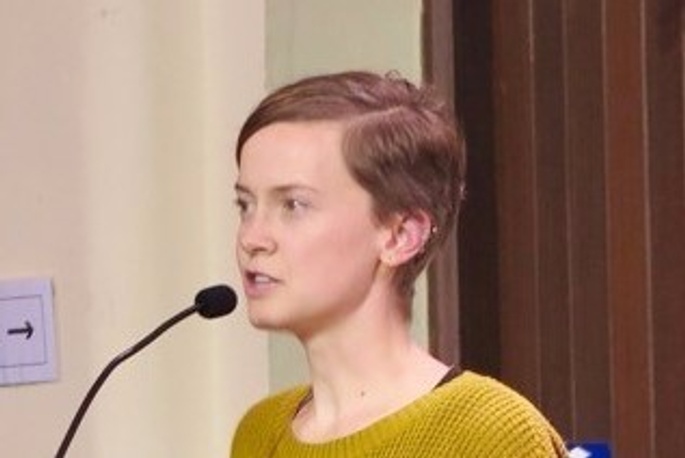 Angela started working for ARRCC in February. She organized an interfaith event to train people to take action on climate change and a 'funeral for coal' protest outside Josh Frydenberg's office. She has been facilitating monthly interfaith meetings to dialogue about the environment and to plan actions.


Tejopala Rawls is an ordained Buddhist who has worked in the environmental movement for most of the past twenty years.
He has worked in media relations for the New Zealand Green Party and in 2014 he trained with Al Gore in giving his well-known slideshow. He is a climate change leader within a worldwide Buddhist community and he helped launch ARRCC's Buddhist climate action kit at the Sydney Buddhist Centre. Since he started working for ARRCC, Tejopala has been part of an interfaith delegation that met with Environment Minister Josh Frydenberg about the Adani mine and has co-written an opinion piece for the Guardian about it. He is currently working on ARRCC's involvement in a National Day of Action on the mine.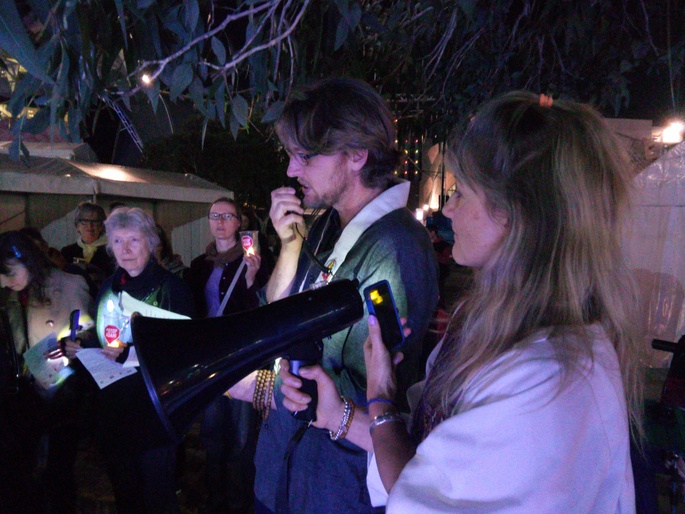 Please help us raise $18,000 so that we can hire both of these wonderful organisers for five more months and keep up the pressure to move away from fossil fuels, stop the Adani mine and care for the Earth that we share. Thank you!
And if you donate $100 or more, ARRCC President, Thea Omerod, will send you a handwritten thank you card.
Donations via PayPal: Payments via PayPal on this Chuffed site have now been re-established. It is now possible to donate via PayPal from this page. Alternatively, if there are any further problems, please go to the ARRCC website donation page.
We apologise for any inconvenience caused to those who have previously attempted to donate to this campaign using Paypal on this Chuffed website.