Alithia Learning:
Let the games begin
Alithia Inc. is a registered charity that will pilot the world's FIRST Young Innovators Hub in 2019, as an alternative platform to main-stream education:
The Alithia Learning Space.
It is time to re-imagine learning, putting the rhetoric of "what needs to change" into action!
Alithia Inc. is working with children and experts to launch a new platform for learning for children aged five to 12, paving the way for many more.
We are NOW raising funds for establishment.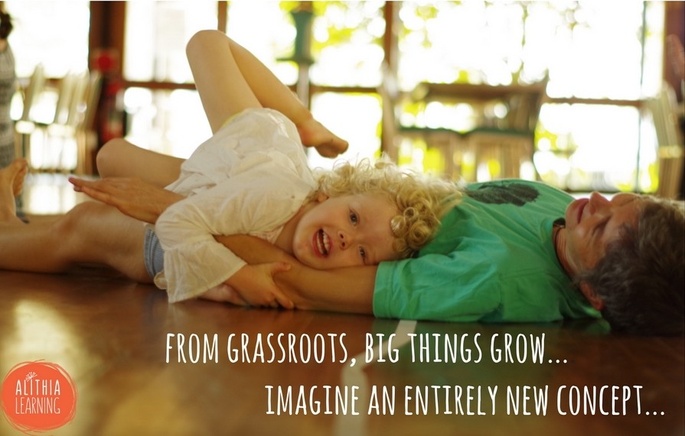 Families need choice.
MORE ABOUT THE
ALITHIA LEARNING SPACE:
We have moved out of the Industrial Era and into the Imagination Age.
At the Alithia Learning Space, we remove the time-restrictions and parameters put in place by a 20th century perspective on education, which was designed to meet the needs of the industrial era. Alithia has welcomed on board a team made up of lawyers, academic researchers and an education consultant in order to drive policy change, showcase an evidence base for these approaches, and provide a platform that can be replicated.
The Alithia Learning Space will be similar to a "demonstration school" in which we showcase new models of learning. Located on the Mid North Coast of NSW, Australia, it will be open during (and possibly after) school hours. This eco-friendly facility will also promote sustainable practices, learning in nature, and the educational value of play and movement.
Interaction tools change the culture of an environment.
Specialised communication tools create a supportive environment that is conducive to innovation, problem solving, self-reflection and understanding others. These tools ensure children know their thoughts are valued, while giving them the time and courage to share ideas that can be developed as a team. When children shape their learning and their space, they are motivated and inspired. The communication tools used for collaborative innovation ensures a trusting, supportive environment, where children feel safe enough to take intellectual risks, the neurones in their brain are firing, and their development and well-being are nurtured.
Online portal
Alithia Inc. is working to build an online platform where children across the globe can develop and implement ideas collaboratively. We will provide online resources such as communication workshops and tutorials, articles, networking opportunities and mentoring.
Where we are at:
A property has been donated, we have mentors, collaborators, a waiting list of familes, and we now need to raise funds for the Learning Space to open next year!
We invite you to be part of this movement. To be the change you wish to see in the world. Please share the word far and wide, donate as much as you can and watch as we, as a collective, create a platform that can be offered across the nation.
A Young Innovators Hub is built on decades of the latest research into child development, neuroscience, communication, and how innovation and creative thinking flourishes. To learn more, go to: alithialearning.org.au
Keep informed by joining the mailing list:
alithialearning.org.au/get-involved/
A special thank you to Design Writers, Sparke Helmore Lawyers and the many others across Australia who have joined us thus far.
NOW is the time you can help make a difference!