"Mend my life!" / Each voice cried.
I first read about the S.H.E College Fund in a book called Saved By A Poem written by the poet and educator Kim Rosen. Kim wrote about her visit to the Tasaru Safe House for Maasai Girls in Narok, Kenya, and the effect this journey had on her life.
On arriving at the Safe House, Kim, paralysed with shyness as were many of the girls, was greeted by a tall girl named Jecinta. Jecinta stepped forward and asked Kim to sing a song. "What I really love is poetry," she responded. "May I recite a poem to you?"
Kim began to recite a poem by Mary Oliver called "The Journey" which begins "One day you finally knew/what you had to do, and began,/though the voices around you/kept shouting/their bad advice".
As the last lines of the poem echoed — "determined to do / the only thing you could do / determined to save / the only life you could save" — many of the girls were in tears of recognition. So was Kim. And so was I reading that book!
In the years that followed, I began to learn poems by heart for myself, discovering in the process what a fulfilling and transformative experience this is.
I often thought about the girls in Narok, and wondered how they were doing.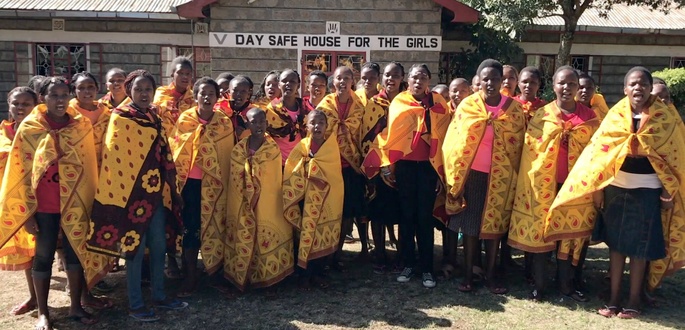 The Tasaru Safe House, 15 Years On
The Tasaru Safe House has now been open for 15 years, protecting hundreds of young girls seeking refuge from Female Genital Mutilation (FGM) and early childhood marriage.
In order to help these young women provide for themselves and their families, as well as assisting them to change traditions that oppress women in their communities, education is key. The Safe House provides for all the girls' needs, including education through Secondary School.
The S.H.E Fund was set up to provide college, university or trade school tuition and all educational and living expenses for as many Tasaru residents as possible.
Those currently supported are studying Early Childhood Education, Business, Accounting, Nursing, Community Development, Medical Technology and Peace and Conflict Resolution.
The young Maasai women emerging from these programs now possess the skills and maturity to make their way in the world, and, by their example, also begin to break the cycle of oppression in their communities.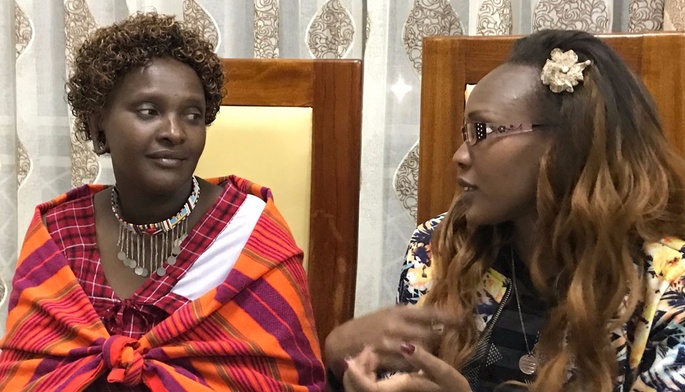 How can you get involved?
Even though sending a young woman to college in Kenya costs a fraction of what it would in the UK or USA (about $3,500/£2500 per year for a 2 year course), without funding from abroad, these girls cannot go to college to fulfill their dreams of becoming powerful members of their communities and, by their example, changing the story of women in their tribe.
As of 2017, the S.H.E fund supports 19 students in college, and is proud that an additional 9 young women have graduated.

I would love to be able to raise enough money with your help to be able to send TWO more young women to college for 2 years.
This is why I'm setting my target at $15,000 and giving myself a full year to raise these funds, by learning enough poems in the next 52 weeks to turn myself into a Poetry Jukebox, a Poetry Fountain, a Poetry Radio Station!
At the end of the year I will be doing an online recite-a-thon of all 52 poems in one loooooooong stream.
How will I know you're actually learning the poems each week?
You can watch my progress weekly on a 52 Poems in 52 Weeks YouTube Channel.
It seems to take me about 15 hours or so each week to learn one poem well enough to recite it to another person, but will also need to keep all 52 poems fresh as they accrue.
Kim, who has learned by heart several hundred poems in the last two decades, feels I'm not giving myself enough time to do this. She often asks her students to work with a single poem for up to 6 months so as to get the words fully "written into our bones" as she calls it, tattooed onto our hearts in a way that usually only songs and nursery rhymes are.
However, "2 Poems in 52 Weeks" wouldn't really have the same clout, so I'm going for 52 Poems in 52 Weeks. This is a real challenge for me as I don't have a photographic memory and generally have to rely, if I want to remember anything, on having it written down somewhere!
I hope with your support to be able to get all 52 poems indelibly printed into my very being by September 2018.
Every sponsor, no matter how much you donate, will get a personal shout-out on one of my recite-a-thon YouTube videos, thanking you for supporting me and the S.H.E fund.
I also have a couple of extra fun perks for those giving their backing to the project.
THESE INCLUDE:
$5 or more Donors: Everyone who donates or more will be entered into a raffle for some fantastic poetry-related prizes, including copies of Kim's Saved By A Poem book, as well as collections from many of the poets I'll cover in the project. Some of these will be signed copies. Watch this space for Signed Copy details.
SEPTEMBER 2017 PRIZES (eligible for anyone donating up to midnight September 30th)
-Lowly by Alan Felsenthal (Ugly Duckling Press): SIGNED COPY
Lowly is a gem: full of sly music & ancient wisdom & hilarious with timelessness, it makes tough & tender love to all the ages, especially ours. I have read it over & over.—ARIANA REINES
-Brilliant Odyssey Don't Yearn by Finn Menzies (Fog Machine Press): SIGNED COPY
"Menzies charts the process of transformation (physical, psychological, spiritual) with a vulnerability that is dexterous and rare."—KAVEH AKBAR
-Saved By A Poem by Kim Rosen (Hay House)
"Kim Rosen is bringing poetry back to where it belongs--into our bodies. To know a poem from the inside is to become a tabernacle for the sacred song of human life."—MARIE HOWE
$25 or more Donors:
The
renowned South-African artist Joss Rossiter
has agreed to donate two prints of her original African paintings (see examples of her work below) to S.H.E. If you donate $25 or more, you will be entered both into the books raffle as well as having a chance to win one of her incredible prints (you can choose either a Giclee or canvas print).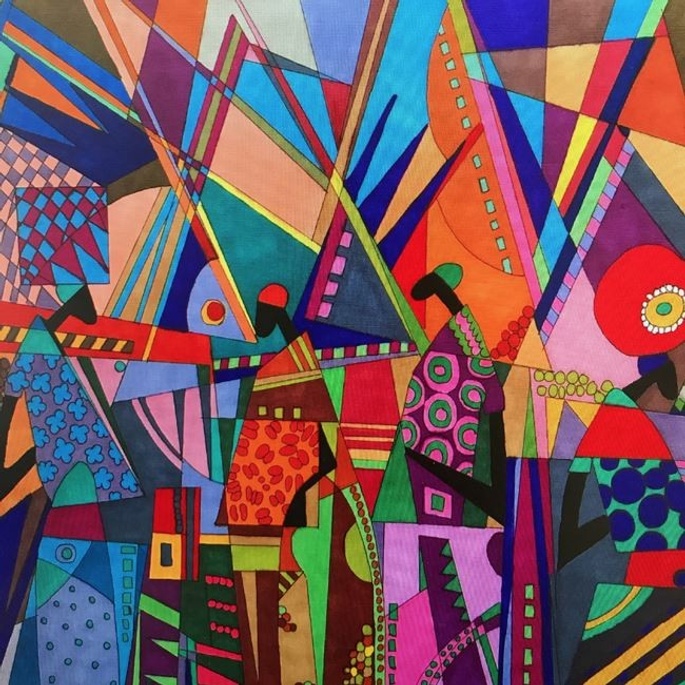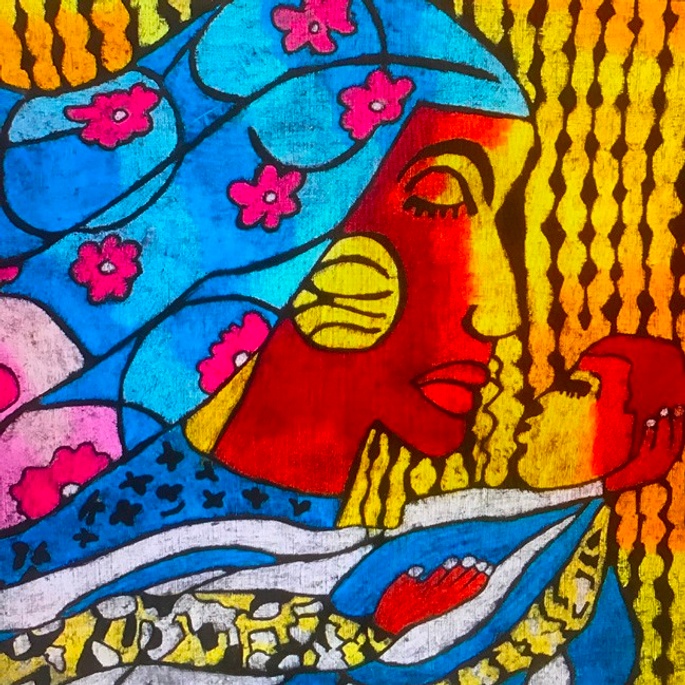 $50 or more Donors: Donate $50 or more and you'll be automatically entered into all the raffles PLUS I will send you a video of me reading or reciting (if it's one I've already learnt) a poem of your choice, including a personal message to a loved one. How about this for a birthday, Christmas, Hanukkah, Kwanzaa, Ramadan, or the perfect V-Day gift!
You can ask me to do a video of a poem you love, or a poem you've written yourself. I can even help you choose the right poem for the occasion if you're not sure what to go with. If you're a dog fan, my poetry-loving pooch Max, has agreed to star in these videos too!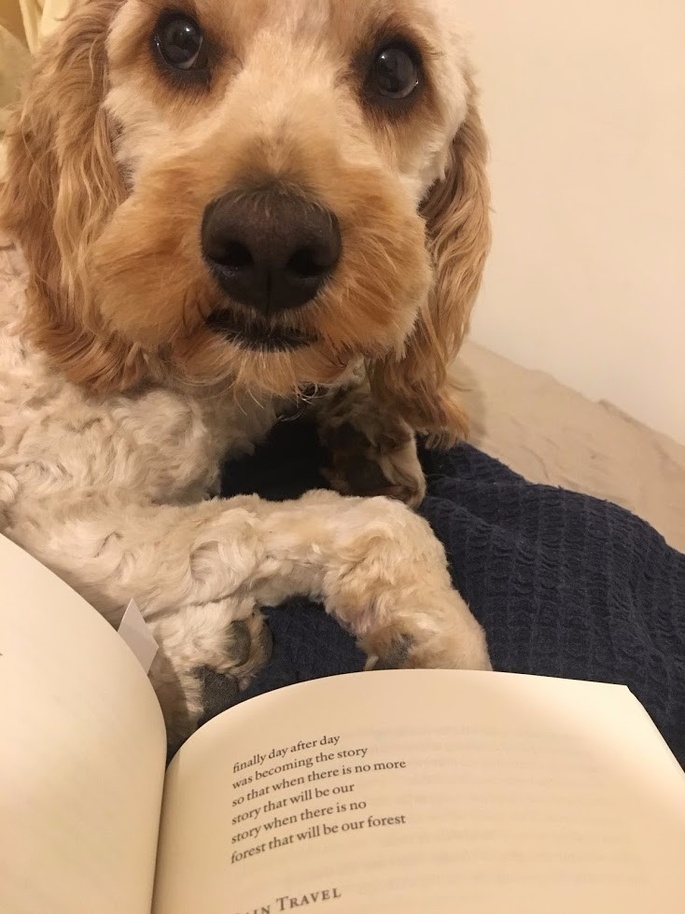 $200 or more Donors: Same as the above, but with me learning the poem off by heart, and also putting the recording (if you like) of the poem on my 52 Poems In 52 Weeks YouTube Channel.
$500 or more Donors: If you're in London, I will come to your house, cook you an African-inspired meal, and recite you some wonderful poetry. If you're not in London, we can work out something similar that you might enjoy.
$1000 or more Donors: Same as above, plus you will receive a pack of Poetry Cards from Kim Rosen and a Limited Edition photograph of your choice of the Masaai Mara from the photographer Karin Carrington in archival matting, image size 18x 12 inches.
Thank you so much for reading and taking an interest in this fundraising project. One of my favourite pictures from the S.H.E website is of Jecinta graduating in 2015 with a 4-year degree in Business. You can read more about her story here.
With your help, we can sponsor two more young women to follow in Jecinta's footsteps. Please do consider sponsoring me for this extremely worthy cause.