For the past two years, young immigrant leaders based in local high schools have been fighting for freedom. We are raising funds to support the expansion of their network. Will you join us in building a powerful youth-led immigration rights movement in San Francisco?
Wednesday, August 15, 2018, San Francisco—When the gangly teenaged boy in the windbreaker stood up to speak, everyone in the group gathered around him—30 high school students from nine schools and representing a dozen different countries, the president of a local synagogue, two teachers, and a retired historian from an Episcopal Church—held their breath. Hamid, freed from ICE detention just a month earlier, spoke softly in Pashto through an interpreter, looking at the young Latina woman next to him, and then around at the crowded high school classroom. "This is what I always dreamed of," he said. "To have the women and the men, the elder people and the youth, everyone together in one circle talking respectfully. Everyone being for each other."
Hamid's story is remarkable: after his father was murdered by the Taliban and ISIS forces tore through his village, he escaped Afghanistan and made his way alone to South America, "walking, walking, always afraid," for months through Central America, then Mexico, desperate to reach the United States, which he believed would finally be "a safe place where I can go to school, learn to be a doctor, be free." At the border, weak and exhausted and only 16 years old, Hamid presented himself for asylum but was immediately handcuffed instead. His teeth were scanned, the records sent to a dentist in Texas who, sight unseen, pronounced Hamid an adult, and he was shipped off to live behind bars in an adult detention facility in California. "I still don't understand what I did wrong," Hamid said, "When someone knocks on your door and asks for help, I thought it is the human thing to let them in." Terrified, knowing only a few words in English and in Spanish, Hamid huddled in his cell in the detention center, underfed and sick, trying to avoid the threatening older inmates and the brusque guards. "I was all alone," he remembered. "Only God could see me."
Meanwhile, a small group of mostly Latino high school students at June Jordan School for Equity in San Francisco were creating their own remarkable story. Immigrants themselves, or the children of immigrants, they founded a club called 415 Unidos for Freedom, and began researching the immigration system, interviewing judges and ICE officials, accompanying immigrants to court with Faith in Action, connecting with local legal groups, participating in rallies, and organizing their own powerful, youth-run campaigns to free detainees and support their families.
When the young organizers were told by a legal-aid group about Hamid's case, they sprang into action. Hamid had been in detention for five months, and his lawyers did not believe he would be freed while waiting for his asylum case to be heard. He was almost ready to give up hope when the students phoned him. "He's just a kid like us," said Keytlen, then a high school senior. "He should be in school, not in jail, it's not fair."
The students met to strategize, and planned an escalating series of actions: gathering signatures asking Senator Kamala Harris for help, winning meetings with lawmakers, organizing in other high schools, contacting the media, rallying outside ICE, and going to Bakersfield to meet Hamid in the detention center. That was a sobering trip: Hamid told them he felt hopeless, and didn't believe he would ever get out. "I didn't want to cry," said Alan, 18, "because I didn't want to make Hamid more sad, but it hurt me so much to see him in this cage."
The students mounted an even more intense campaign to pressure ICE, and made the news when they held a chair empty for Hamid at their own graduation, with a mortarboard bearing the logo of 415 Unidos. "The students just decided, 'he's one of us,' said JJSE administrator Matt Alexander. "They believed he belonged with them, and were determined to get him out." When ICE agreed to release Hamid on an astonishing $25,000 bond pending his asylum case, an online crowdfunding campaign raised the sum within a week. Matt Alexander went to the courthouse with a group from Faith in Action to post the bond. Hamid would be freed that afternoon. "I wept," he said.
When he got the message, "I couldn't believe it," Hamid remembered. "They came to get me, they drove me to San Francisco, and we all went to the park and played soccer. It was like God sent me these brothers and sisters to bring me freedom." His new friend Keytlen said she understood, because she had experienced having her own family members in detention. "There are so many people like Hamid still inside right now. It's not right, and we have to get together to change it."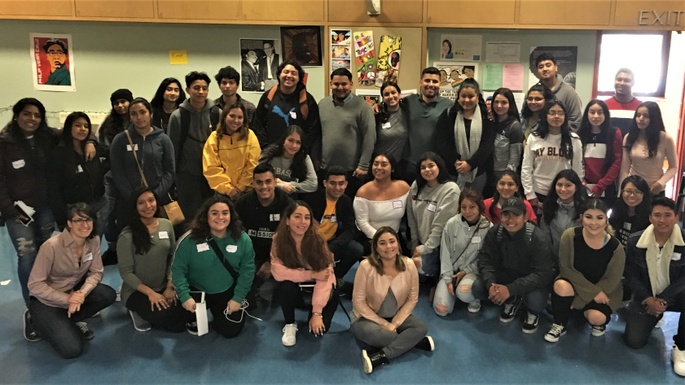 The 2018 Summer Institute, where these meetings took place, was the outgrowth of a long partnership between June Jordan School for Equity and Faith in Action Bay Area. It is the most recent example of a a range of programs designed to develop leaders, foster democratic political involvement, and to train and organize young people to help build truly multi-generational, multiracial, cross-class, multilingual networks for change.
The Summer Institute was a pilot program, training and informing thirty immigrant youth leaders from nine different high schools in San Francisco. The sessions included trainings from lawyers, workshops with organizers from Faith in Action, and presentations by other adult activists, but the focus was the work done by student leaders together. "There are going to be more and more of us," an immigrant student from Mexico told Hamid. "I promise you, we are going to grow."
Will you help these young leaders grow?
The response at the Summer Institute was overwhelming. All nine high schools are eager to create 415 Unidos for Freedom clubs and organize for action. To meet that demand, we need to hire experienced college student interns to work closely with the groups. These interns are immigrants themselves, committed to organizing youth, and serve as role models, mentors, and guides for the high school students.
Hiring an intern costs only $5000 for the year. We are looking for adult leaders ready to commit to supporting and training the next generation of young immigrant leaders. Please help us fund three interns so students in all nine schools can become part of this powerful movement for immigrant rights.
For more information on our overall project budget or to make a larger commitment, please contact us.