Hi, my name is Nemone and I live in a plastic world.

But all that is about to change as I pledge to go plastic-free for the whole of February.
What does that mean?
Obviously it's going to be really difficult to avoid plastics altogether so I'm going to keep it to single-use plastics. I won't be able to buy anything that is wrapped in plastic, made of plastic, or has plastic in it.
I don't anticipate this to be easy but I think it will be a really interesting challenge - and I'm just thankful that Febraury is the shortest month!
Why am I doing it?

And if things don't change pretty quickly, we're going to be in trouble. I've got two small kids and by the time they're grown up there could be as much plastic in the oceans as fish. I don't want them to grow up in that world!
Aside from highlighting how much plastic we come across every single day, the main reason for this challenge is to raise money for CLEAR Community - a grassroots network of people who are working to tackle the issues of plastic pollution in Indonesia.
What's so special about Indonesia? Let me tell you:
It is the second biggest polluter of plastic to the oceans IN THE WORLD!!!
Let me put that another way: between 5 and 15% of the plastic in the ocean COMES FROM INDONESIA*
Want another statistic? Up to 80% of Indonesia's waste is mismanaged.

That's what makes the work of CLEAR so important.
They work together with local communities to develop low-cost,high impact waste management systems which can be easily replicated by any village to achieve lasting and widespread change.
Not only do they tackle the waste head-on by organising beach cleans and creating recycling stations, they also have an education and outreach program which aims to change the way people behave so that the rubbish doesn't end up on the beach in the first place.

AMAZING!
So, if you, like me, are devastated by images of whales filled with plastic bags, baby dolphins poisoned by their mother's milk, birds choked by plastic caps and turtles strangled by packaging, then please help me by supporting me in my challenge and DONATE NOW!!!

Thanks for listening...
Nemone xx
"Never doubt that a small group of thoughtful, committed citizens can change the world; indeed, it's the only thing that ever has." - Margaret Mead
~~~~~
See more at our website: www.clearcommunity.org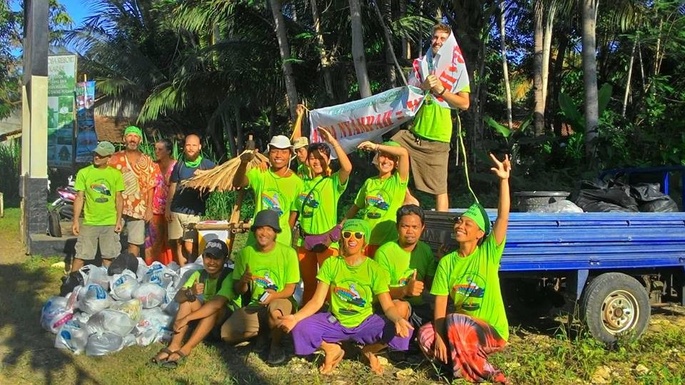 Check out the video below for more of the CLEAR story...
Data sources:
*Indonesia contributes up to 15% of world ocean plastic and 83% of the waste is mismanaged as reported in the Journal 'Science' 13 Feb 2015 – 'Plastic Waste Input from Land Into Oceans'