The gift of curiosity is the greatest gift of all...
Growing up in Karratha I loved my childhood, and spent my time fishing, snorkelling and raising joeys at home. I was surrounded by interesting things.
I didn't mind school but wasn't particularly good at it. Sitting behind a desk was hard, but I do remember the science outreach programs that came to our school, I thought they were fantastic. They were definitely the beginning of my interest in science.
What I also learned growing up in a remote region was to grab any opportunity that came along. I was a 'say yes then ask later what I've said yes to' type girl. It's given me so many opportunities and is something I really like to share with school kids.
Now I'm a third year PhD student at the University of Western Australia and Harry Perkins Institute of Medical Research. My PhD is in Chemistry and nanotechnology, and I focus on designing new ways to deliver gene therapy treatments to diseases like breast cancer.
And next year I'll be at the University of Massachusetts having recently won a Fulbright Postgraduate Scholarship. I'll be studying ways to better harness the body's immune system to fight cancer.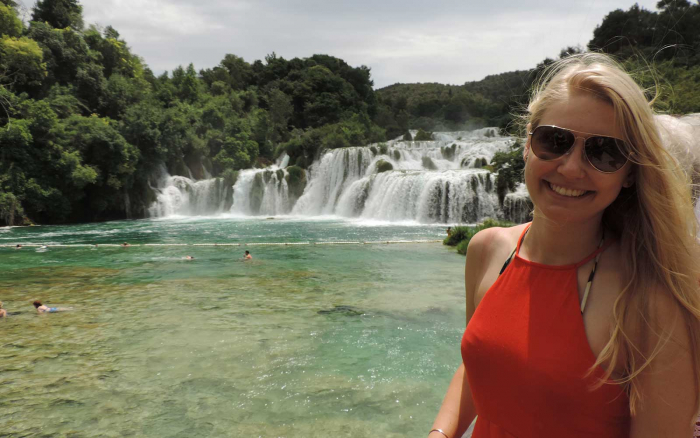 In the past two years I've also been the Australian Nanotechnology Network Young Ambassador which has given me the chance to create experiments for kids in the regions and to travel to schools like mine to inspire the next generation to take their opportunities.
I've also volunteered for Scitech's Innovation Exposition, the Science Café program, Education Lab and Ignite Mentoring. I love inspiring students about science.
This year I've been doing the virtual leadership program, Homeward Bound, which encourages leadership in women scientists. The final leg of our journey is a three week expedition to Antarctica! We participate in a cutting edge science education program and explore how women in leadership positions can help drive the world into a more sustainable future.
All of these opportunities have come from being curious, from taking every opportunity and from finding my passion. That's what I want to share with school students, especially those from the bush.

Why Homeward Bound?
The aim of the program is to elevate the role of women in leadership positions and to empower us to redress the gender imbalance in the upper levels of science. Homeward Bound's vision is to enhance each woman's opportunity to take up leadership roles globally and take a proactive stance in the world by first improving themselves as an individual – improving their clarity, confidence, shared vision and strategic capability.
Research has shown that females in STEMM fields who are paired with a female mentor felt more motivated and more self-assured than those who had either no mentor or a male one. This then lead to lower levels of anxiousness, and lower drop out levels. (See here for article)
After giving lessons to high school students as the ANN Young Ambassador, I have students approach me afterwards to tell me how much they love science, how much they loved the class and how they had not even considered this as a career option – these students are usually girls. Moments like those are the ones that make me so passionate about outreach: I want to show students how amazing science is and what a career in science could lead to, but in particular, I want to show girls what they can do. Homeward Bound for me is a very personal journey into my own leadership development, I want to be the best leader and the best mentor I can be for the students and people I reach.
What are we doing? And why Antarctica?

Homeward Bound is a year-long course – we've already started on our journeys! We have a 12 month virtual leadership program, and at the end we come together from around the globe and set off on a 3 week expedition to Antarctica! During the expedition we will be undertaking further leadership, strategic, science and visibility training as well as participating in a cutting edge science education program! When we land, we will be visiting various research bases and learning about what polar science is telling us about climate change, and exploring how women in leadership positions can help drive the world into a more sustainable future!
So why Antarctica? Antarctica can provide critical insights into global-scale climate change, with regions of Antarctica showing the fastest responses to climate change on the planet! Additionally, Antarctica is beautiful and unique and awe-inspiring… but it is also a harsh and testing environment. Hopefully after three intense weeks we will come out of the pressure pot as diamonds, with strong bonds and a strong network to lead to amazing collaborations in the future!
Why do I need your support?
We simply (not so simply) need to raise the funds for our own participation in the course and the expedition. The total cost of the program is about AU$40,000 per person, including leadership coaching, administration and accounting support, premises and operational costs. You can find a detailed breakdown here. Of that, approximately AU$15,000 is subsidised via in-kind contributions, partners and sponsors leaving us to fundraise the final AU$25,000 for our flights, accommodation, chartering the ship, insurance and clothing. Any excess I manage to raise will be donated towards Team WA Homeward Bound 2018 and the Homeward Bound Scholarship fund, which goes to helping women in positions where they are least able to raise the funds themselves.
Your kind contribution, no matter how big or small, will be greatly appreciated, and will help develop better leaders to change the state of our planet! Thank you!
When you make your online donation to Jess, you'll receive a tax receipt from Chuffed.org on behalf of the University of Western Australia!
Thank you for supporting my campaign. Follow my Homeward Bound journey by visiting my Facebook page, LinkedIn and the Team WA Homeward Bound 2018 Facebook page.