*Update #5* - Missed Your Chance to Give?
It's not too late! Give today on our website: http://bit.ly/2s6kJVM
*Update #4* - YOU DID IT!
From everyone here at Book-It -- thank you so much to the 450+ incredible donors who have made this campaign such an incredible success. We are deeply humbled and thankful to be rooted in this supportive community.
*Update #3* - We're Almost There!
Thanks to everyone who has supported us so far! June 30 is the last day to contribute to this campaign!
*Update #2* - $100,000 MATCH!
When our campaign reaches the goal, our matching donor will double their gift to $100,000! Give now to make a HUGE impact!
*Update #1* - WE HAVE A MATCH!
When our #StandUp campaign reaches $65,000, a generous donor has pledged an ADDITIONAL gift of $50,000.
Book-It Empowers Voices

"Art, freedom and creativity will change society faster than politics." — Victor Pinchuk, Ukrainian Philanthropist
These are unsettling times. It is more important than ever for us to stay connected and inspired to speak our minds. By choosing the works of literature that we adapt, and the ways we connect with our audiences, it's our mission to stand up for our community – for all of you. We stand up for you in our work and now we ask – amid the politics and the noise – if you will also Stand Up for Book-It.
In the face of overwhelming need all around us, we must remind ourselves that the arts are equally critical to the health of a community.
In our 2017-18 season, we are taking our mission farther than ever -- programming a bigger season, forming new partnerships with local organizations, and launching new events for the Seattle community. We need your help to raise $115,000 to make next season possible.
An ambitious 2017-18 season
This is just a sample of what we have planned:
• a striking 5-show season
• providing first-rate arts education for over 60,000 K-12 students across Washington, including rural and underserved youth
• creative partnerships on our mainstage with Café Nordo and Young Audiences New York
• launching a new intergenerational spoken word festival called LISTEN UP, inspiring youth across Seattle to speak their minds
• create new community partnerships with organizations doing vital work in Seattle
• helping students develop 21st-century skills like critical thinking, imagination, and collaboration through our high school residency programs
• digging deeper into issues around our productions with our Beyond-the-Book events that connect patrons to important civic members
Your donations will pay for the artists and programming in Book-It's 2017-18 season.
STAND UP FOR LITERACY.
STAND UP FOR EMPOWERING VOICES.
#STANDUPFORBOOKIT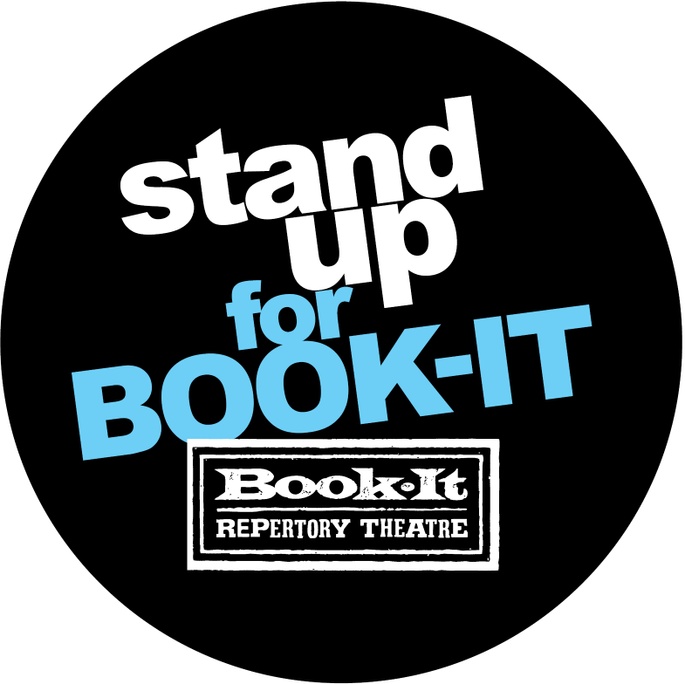 What You Can Do:
Give what you can -- any amount gets us closer to our goal.

Subscribe and make a gift with your subscription -- tickets sales only cover half of what it takes to do what we do!
...or just spread the word! Every time you share this page, it will help us reach our goal.
Looking for our regular giving page?

Click here: http://bit.ly/2s6kJVM
Prefer to give monthly?
We do too! Click here to schedule a recurring donation.
About Book-It Repertory Theatre