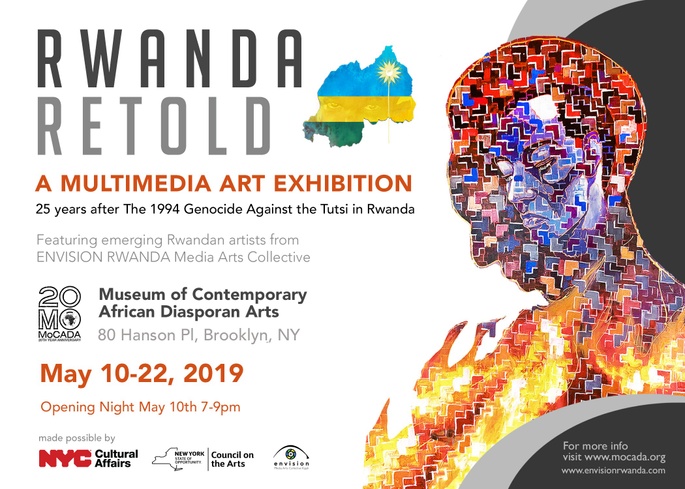 ON VIEW: May 10 - May 22, 2019
CURATED BY: Peter Lee and Rachel Sherman
LOCATION: The Museum of Contemporary African Diasporan Arts (MoCADA) 80 Hanson Pl, Brooklyn, New York
http://mocada.org/2019/04/16/rwanda-retold-25th-anniversary-of-the-1994-genocide/
About the Exhibition
Rwanda Retold is a multimedia visual art experience in resiliency. The exhibition features a series of paintings, mixed media, sculptures, photographs, short films, and a memoir launch portraying Rwanda in present day, providing a glimpse into the lives of different generations and how their history has impacted them. In Rwanda Retold, emerging Rwandan artists commemorate the 25th anniversary of the 1994 Genocide Against the Tutsi through their own creative expression. Themes of pain, healing, and hope will be exemplified through a diverse range of artistic mediums which aim to both educate and inspire.
Rwanda Retold showcases the artistic works of a young generation changing the reputation of their country. We see present day Rwanda through their eyes, a modern nation looking toward a bright future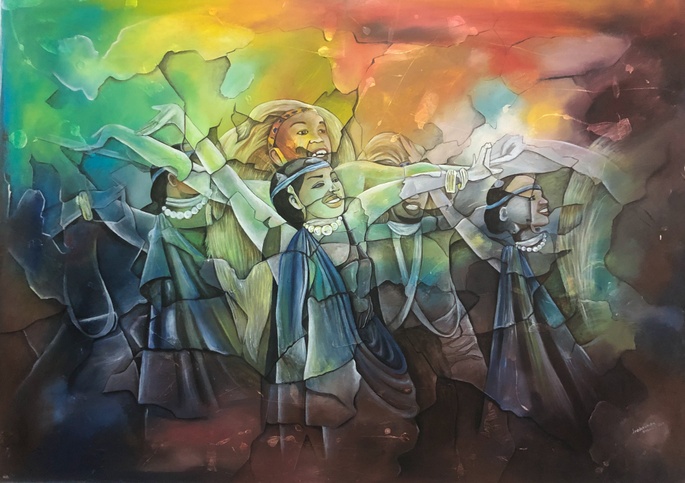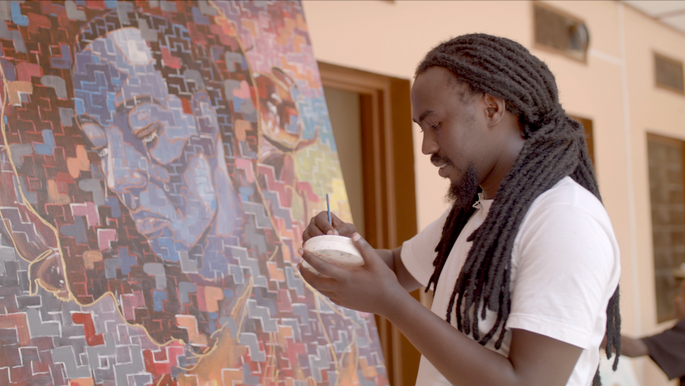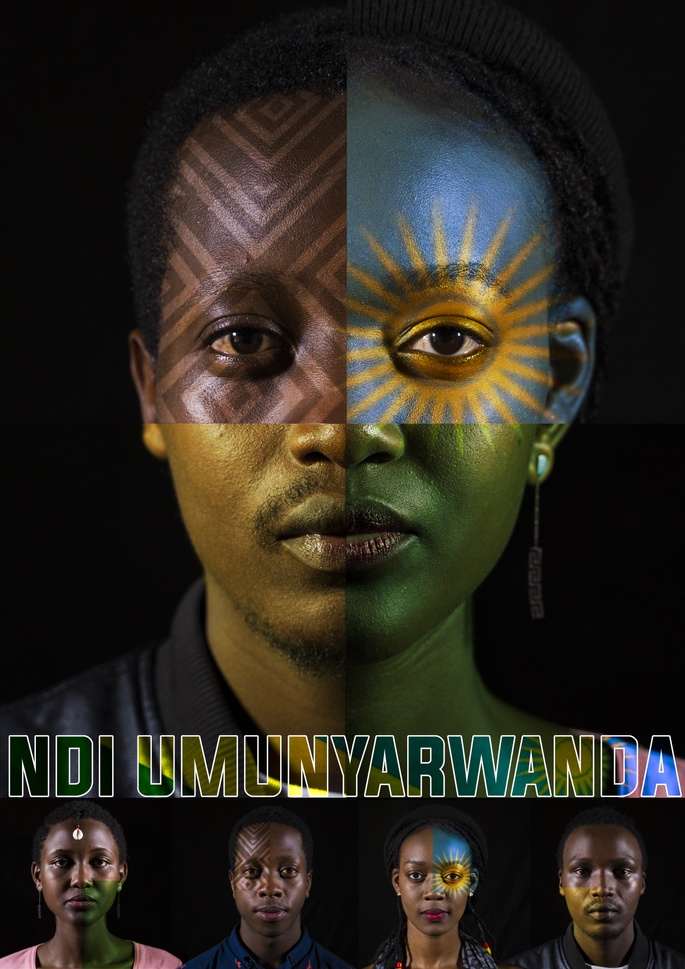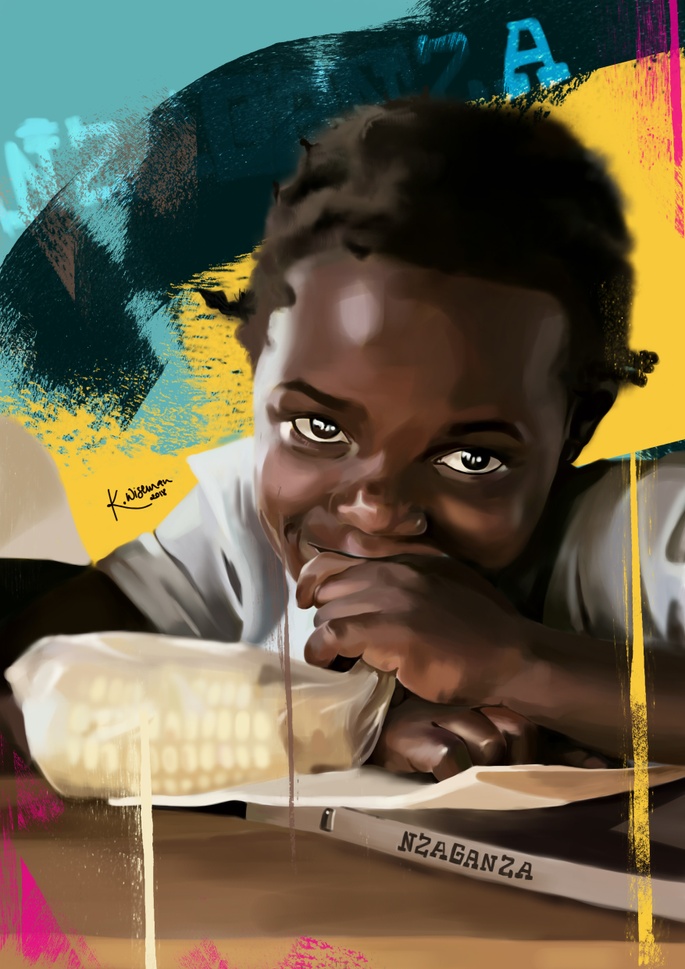 The exhibition will also include an official book launch "Untamed: Beyond Freedom" which is a personal memoir of Celine Uwineza, a successful entrepreneur, who experienced the traumas of the genocide as a 10 year old girl. The book details her healing journey to become the successful woman and motivational speaker she is today.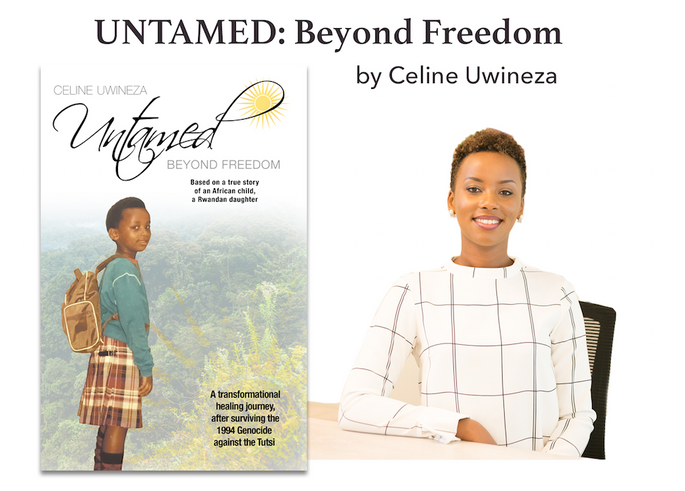 How funds will be used
All funds raised from this campaign will be used to produce and support the Rwanda Retold exhibition, including giving four artists the opportunity to attend and share their experiences with an international audience at the New York exhibition. While in the U.S., artists will engage in artist residencies and cultural exchange programs over an extended period of time. All additional funds will directly support Envision Rwanda in its mission and ongoing work to support emerging artists who need resources and a supportive community to help develop their artistic careers.
Exhibition Expenses
- Flights and accommodations for artists to attend and share their stories at the NYC exhibition
- Cultural experiences and events for artists in NYC
- Art production equipment, materials, and expenses
- Printing and distribution for Untamed: Beyond Freedom memoir
- Promotion & logistics
- Compensation for all artists who contributed pieces to the exhibition
Funding for ENVISION RWANDA
- The recently launched "Envision Women" female artist scholarship program which provides scholarships to local training programs for young female artists developing their careers
- "Envision Entrepreneurship" fund which provides interest free loans to our artists who need to purchase additional equipment and supplies for their field of expertise
- Additional cameras, computers, equipment, and art supplies for our growing number of artists at Envision Rwanda.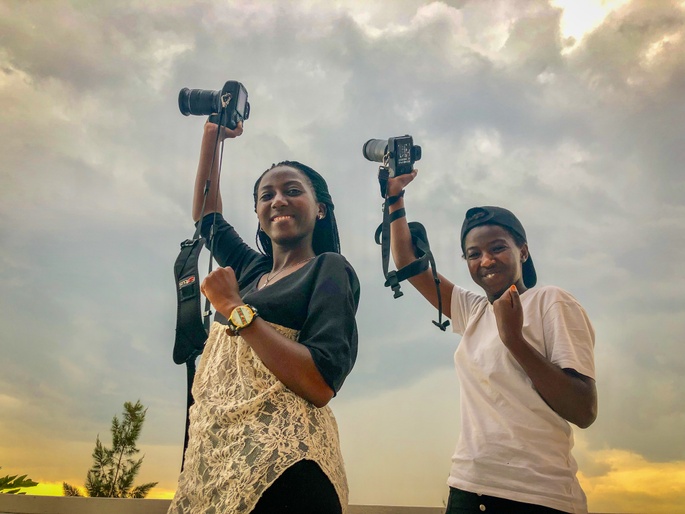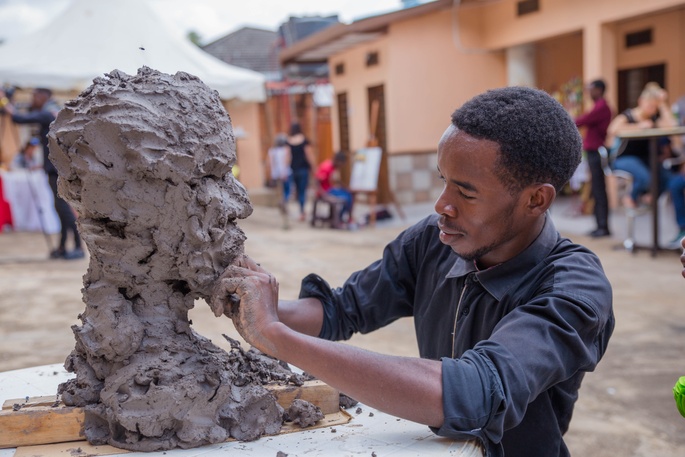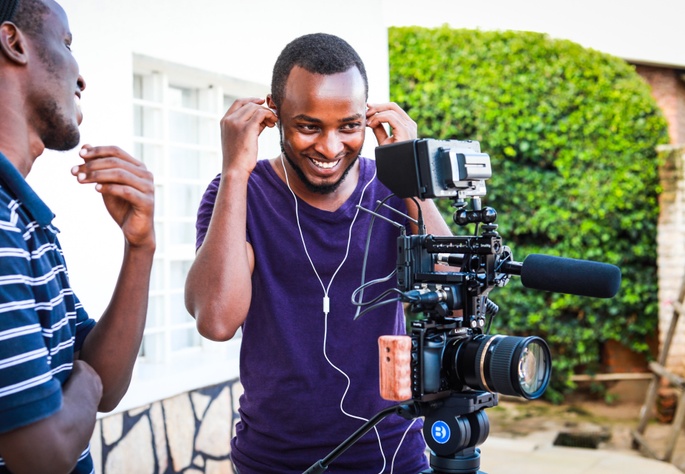 10% of all funds raised will be donated directly to the Agahozo-Shalom Youth Village (www.asyv.org) to support arts and creative development programs for vulnerable youth in Rwanda.
About ENVISION RWANDA
Envision Rwanda is a media arts collective and social enterprise based in Kigali, Rwanda whose mission is to promote the creative arts by providing opportunities for emerging Rwandan artists to develop their talents into successful careers.
Our multimedia studio space and gallery hosts aspiring Rwandan filmmakers, photographers, mixed media artists, fashion designers, and other creatives who are provided the platform, equipment, and mentorship to build their potential and professionally develop their skills. We are a team of dreamers who envision Rwanda as a symbol of inspiration and a future center of the creative arts in Africa.
Envision Rwanda was founded in April 2018 by, Peter Lee, an American who had been teaching photography and video production for two years at the Agahozo-Shalom Youth Village, a high school and holistic living community for orphans in Rwanda. Peter recognized the lack of opportunities available for creative artists in Rwanda and wanted to create a space where artists could collectively work amongst each other and promote and develop their talents. Today, Envision hosts around 25 local artists and creatives who work and contribute to the space. Rwanda Retold will be the gallery's second official exhibition and its first international exhibition.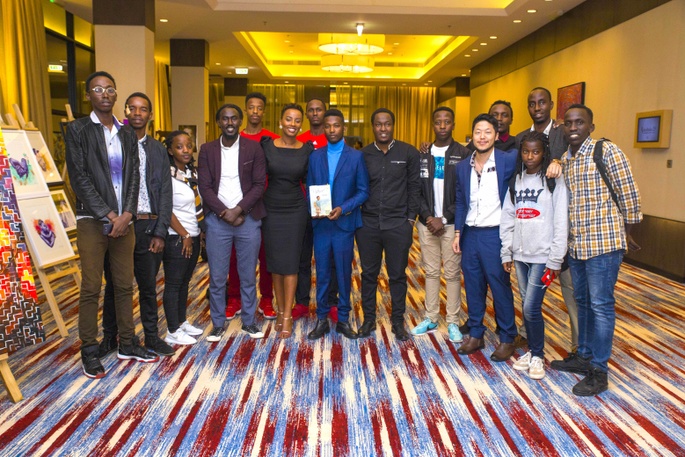 Envision Artists at the Rwanda Retold Exhibition Opening in Kigali
Join us in telling the stories that deserve to be told.