My mission: to help young people in my community realise their cultural identity and foster a vision to become the leaders of tomorrow.
Why?
I am also a strong believer in being proud of your local community heritage, being connected with the people around you, and the people who have come before you. For some, this is local community, for some this is a cultural group. However this fits into your life, this connection is the foundation for your identity, and hence the catalyst for accessing your personal leadership capacity in a grounded, authentic, meaningful way.
Knowing your mother tongue provides the catalyst to connect with your culture. Language provides the gateway to culture, and culture is the gateway to maintaining your heritage and identity over generations and amidst globalisation. Upholding cultural traditions and being in touch with your heritage is itself a strong act of leadership. The skills that come with assuming leadership roles in your own cultural community can be transferred and utilised by young people in their early to mid-career aspirations as future leaders.
How am I a leader in my community and my profession?
I am a young Australian woman who is proud of my rich cultural heritage. I am a member of Sydney's Fiji-Indian community and have been volunteering my time for several years for the administration of various community language schools that teach Hindi. I also learn and practise shastra sangeet, and am proud to be able to sing kirtans and bhajans and play harmonium – something I do at every opportunity I have within the community. Younger children in my community look up to me for guidance and support, and seeing me actively promoting my culture and heritage motivates them to aspire to do so too. I am also the Academic Coordinator for Ram Krishna Hindi and Cultural School, a not for profit, volunteer-run community language school for people of all ages to strengthen their bilingual skills, become more in touch with their multicultural identity and find a supportive community. We have a strong and clear corporate governance, experienced and qualified teachers and a clear goal to make a positive difference in the community. We are the first community language school in Australia to adopt the New Hindi Syllabus set by the NSW Department of Education, and have attracted almost 40 students in six weeks.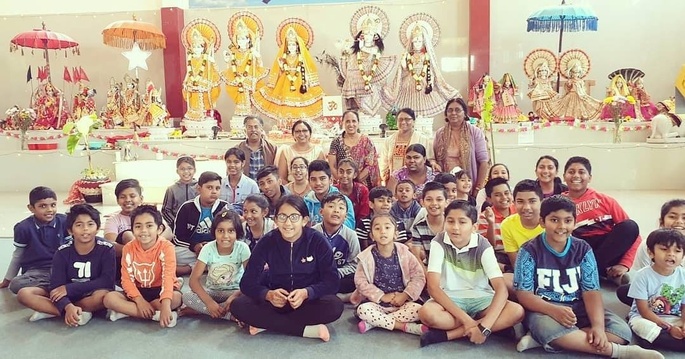 As a professional, I work as a GIS Specialist. I am an active member of the Australian geospatial profession, which places me in a unique position to be able to enact national-scale change in this industry. As the Chairperson of National Young Professionals for the Surveying and Spatial Sciences Institute (SSSI), I am working hard volunteering my time, efforts and knowledge for the brighter future of young professionals and emerging leaders of the global geospatial profession. I had the privilege to be invited to attend the inaugural United Nations World Geospatial Information Congress in China in 2018 and was one of the youngest delegates present. I am currently part of the organising committee of national and international conferences such as Locate20 and the South East Asia Survey Congress 2019. Through these efforts, I work to create opportunities for young professionals in the industry to have a voice, to have access to capacity-building that offer them real leadership opportunities, and that create networks for people that foster collaboration and innovation. I founded and continue to lead the SSSI National Young Professionals Mentoring Program, a free program which has increased over 300% since it started and now is the leading program facilitating inter-generational exchange of knowledge, skills and experience in the Australian spatial industry and even has international participants. In 2018, my selfless dedication led me to be recognised with the SSSI NSW Special Achievement Award, and I am one of three finalists for the Hunter Young Achiever Award 2019 and the recipient of the SSSI NSW Young Professional of the Year Award 2019.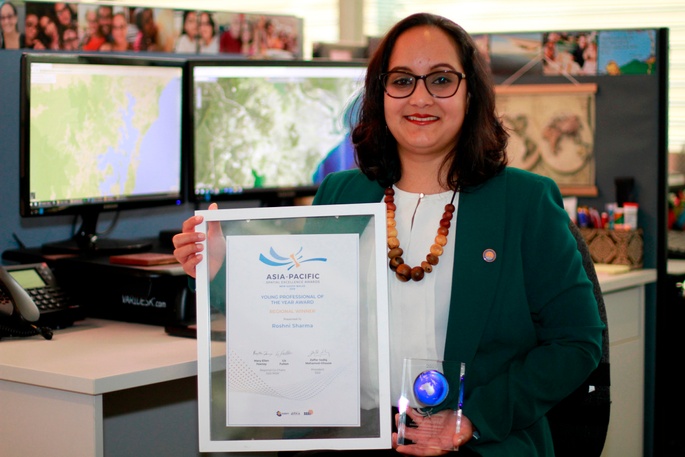 Tireless efforts reap rewards
After years of hard work for both the scientific and Hindu-speaking communities, I am humbled and honoured to have been selected as one of 80 women internationally to be part of Homeward Bound in 2020.
Homeward Bound is a one-year leadership training program beginning in November 2019 and culminating in a three-week intensive course as the final leg of the program on-board a ship in Antarctica in November 2020. Find out more at https://homewardboundprojects.com.au/hbexperience/.
My plans to give back to the community
Over the years, my experiences in both my cultural community and the Australian geospatial community have brought an increasing awareness of how a strong sense of cultural identity forges leadership skills and unleashes leadership potential in emerging leaders. Over the next 12 months, I am enacting plans to continue to create positive change in two key areas:
Organising innovative opportunities for children and young adults to learn Hindi language in conjunction with their cultural and traditional heritage
Creating and running initiatives to teach students and young professionals leadership, strategy and visibility skills to enable them to develop a leadership identity concept, empowering them to learn these career skills early on for career success.
I will continue in my capacity as an active and visionary young leader in the Fiji-Indian community to foster opportunities to learn the Hindi language, and associated traditions and cultural heritage at Ram Krishna Hindi and Cultural School.
I am also continuing with my work volunteering as Chair of National Young Professionals with the Surveying and Spatial Sciences Institute with our National Young Professionals Mentoring Program, the Locate20 Organising Committee (Australia's annual national conference), and furthering the National Young Professionals Monthly Career Development Webinar Series for technical and non-technical skill development accessible across technical and geographic silos.
I am excited to have the support of the University of Newcastle, the University of Sydney and a number of not-for-profit organisations with plans to share what I will learn to help create and empower other young professionals and emerging leaders in my community to realise their leadership visions.
I need your support
To be able to achieve my goals to help young people in my community, I need the support of my community.
The Homeward Bound program comes at a cost of AU$30,000. One of the conditions of program participation is Visibility – which entails gaining support from the community so that you can then invest your learnings and efforts to help the community in a larger, more effective way.
Rest assured that the knowledge and skills that I gain from Homeward Bound program will be well utilised and channelled back to the community and its emerging leaders.
Any donation amount will be highly appreciated and will be tax-deductible.
Clicking on the pink 'Donate Now' button at the top right-hand side of the page will allow you to select a donation amount of your choice that is affordable to you - $5, $20, $50, $100, or any other amount.
For those who are able and willing to give a bit more, I will do my utmost to promote your brand name in the work that I do, as the panel along the right side of the page details - Bronze Sponsorship ($500), Silver Sponsorship ($1,000), Gold Sponsorship ($2,500) and Platinum Sponsorship ($5,000). All major levels of sponsorship (Platinum, Gold, Silver and Bronze) will be featured in newsletters I send out about my Homeward Bound experience, promoting your business to a large body of interested people locally, regionally, nationally and internationally - over the course of 2019-2020 as I work through the Homeward Bound Program, and as I continue my work creating positive change in the community on an ongoing basis after my expedition to Antarctica. I will also provide you with a hard-cover HB5 Antarctica Expedition A4 Photo Book upon my return from Antarctica, selecting 50 of my most impactful photographs from the Homeward Bound 5 expedition and featuring quotes and writeups from the learnings of the journey about leadership, strategy, visibility and science. I will also send you a personalised postcard from the South Pole while on my Homeward Bound 5 expedition to Antarctica.