Approximately 36.7 million people are currently living with HIV/AIDS. Of these, 2.1 million were children less than 15 years old. Majority of the people living with HIV are from the Sub-Saharan Africa region, which is also the largest source of new infections.
Currently, only 60% of people living with HIV know their status. The remaining 40% (over 14 million people) still need to access HIV testing services. As of July 2017, 20.9 million people living with HIV were accessing antiretroviral therapy (ART) globally.
1 million people died from AIDS-related illnesses in 2016, bringing the total number of people who have died from AIDS-related illnesses since the start of the epidemic to 35.0 million.
Despite advances in our scientific understanding of HIV and its prevention and treatment as well as years of significant effort by the global health community and leading government and civil society organizations, too many people living with HIV or at risk for HIV still do not have access to prevention, care, and treatment. However, effective treatment with antiretroviral drugs can control the virus so that people with HIV can enjoy healthy lives and reduce the risk of transmitting the virus to others.
Roughly one in eight people living with HIV is being denied health services because of stigma and discrimination. Adopting a human rights approach to HIV and AIDS is in the best interests of public health and is key to eradicating stigma and discrimination.
Southern Time Productions is partnering with organizations across the globe to raise awareness of the global epidemic of HIV/AIDS, with an aim to reduce stigma and discrimination surrounding the disease. We are also partnering with organizations, like PINA and PWA, which provide access to testing, treatment and support services to people living with HIV.
The Southern Time team includes HIV positive singers from Toronto and Uganda, collectively sharing their knowledge and stories of triumph over despair, through music, drama and spoken word.
Southern Time Productions aims to achieve their goals through a number of steps:
Partnerships with organizations that help people living with HIV around the world in multiple ways
Through a unified positive performance and presentation at the 22nd International AIDS Conference (AIDS 2018)
A world tour, documentary and studio album
A cinematic musical docudrama
Each of these steps aims to create awareness among the general public and send a message of equality, compassion and unity for all. Southern Time aims to deliver this message through music, film, personal interviews and other artistic media.
OUR GOALS
To partner with organizations providing consistent access to antiretrovirals (ARVs) to all people living with HIV throughout the world
To partner with organizations intent on reducing the stigma and criminalization surrounding HIV
To spread the knowledge to everyone that people living with HIV now have the possibility of living full and productive lives with a normal lifespan, in relationships with seronegative partners without worrying that they may infect them, and are able to reproduce without passing the virus to their child
To show how people from different parts of the world, cultures, and socio-economic backgrounds can work together and create beautiful and unique works of art with messages of positive change
To raise awareness about other issues of disparity that need to be addressed such as rape and child sexual abuse through sharing personal testimonies
HOW DO WE PLAN TO ACHIEVE THEM?
We have set up specific tasks to reach our goals. They include the following:
Successful performance, presentation and networking at AIDS 2018 in Amsterdam this July
Developing the Southern Time Band under the guidance of and partnership with Evolutionary Music Co-op (EvMC)
Documenting the execution of the World Tour of the Southern Time Band
HOW CAN YOU HELP US?
With your pledge, you can support us with the following needs that will help us reach our goals.
Funds for tour preparation and execution
WHERE WILL YOUR MONEY GO?
| | |
| --- | --- |
| Description | Cost |
| Band Costs | $8,600 |
| Travel and Rooming Costs | $15,700 |
| Equipment Purchase and Rental Costs | $5,250 |
| Food Expenses | $4,000 |
| Staff Expenses | $7,500 |
| Filming and Studio Costs | $5,300 |
| Website design and Advertising | $4,600 |
| Equipment & Merchandise | $3,700 |
| World Tour Preparation and Execution | $40,000 |
| Misc | $5,000 |
| Total | $99,650 |
WHY IS THIS IMPORTANT?
It is vital that we spread the right message across to everyone that people with HIV are still people and they have the right to live and love just like any normal person. The stigma and discrimination surrounding HIV can negatively impact HIV testing rates and the ability of people living with HIV to seek treatment, care, and support. Blaming people living with or affected by HIV for their situation or abusing them forces the epidemic underground, creating the ideal conditions for HIV to spread.
As well, HIV is not the disease it used to be. People living with it are now living full and productive lives, and are in serodiscordant (where one person is positive and the other is negative) relationships because of U=U (undetectable viral load = untransmittable), and other scientific advances, yet the stigma from having HIV still remains and affects the people living with HIV. It is important that we spread this message for the overall good of humanity.
It will be a wonderful opportunity to witness our team members' life experiences through drama and music at all performance and presentation opportunities, including the documentary and the other steps outlined above.
ABOUT US
Southern Time Productions has been producing various iterations of Timothy Bartsch's rock opera 'Southern Time' since its original multi-media stage production in 2005 in Vancouver. Once the cinematic musical docudrama is completed, Southern Time Productions intends to produce many other artistic projects promoting positive social change throughout the world.
Evolutionary Music Co-op is a non-profit organization that aims to gather, create, develop, produce, manage and promote innovative and original music for the mutual benefit of the artists, the co-operative and society.
OUR PARTNERS
The Toronto People With AIDS Foundation (PWA) engages with people living with HIV/AIDS by enhancing their health and well-being through practical and therapeutic support services and broader social change and inspires them to live into their dreams and discoveries.
People In Need Agency (PINA) is an NGO organization established in 2008 to provide hope and support to youths, especially those living with HIV through the provision of information, counselling and empowerment skills to reduce vulnerability to poverty, HIV infection and re-infection as well as improving adherence to antiretroviral therapy among HIV positive youths.
SOUTHERN TIME PERFORMANCES


MEET THE TEAM
Southern Time Team Members:
1) Tim Bartsch ('T') – Producer/Musician – Canada
Formed through classical music training and classic rock intrigue, and being challenged and shaped through an HIV positive diagnosis in 1996, T (aka 'Tim Bartsch') has shared his amazing story through multiple iterations of song and drama ever since.
2) Eva Nakato ('Eve') – Singer – Uganda
Eva Nakato aka 'Eve' (sister of Robinah) is a musician, film actor, peer educator, and a young woman born with HIV who has dedicated her life to making the world a better place for herself and others. She was just 10 years old when her mother disclosed her HIV status to Eva.
3) Robinah (Ruby) – Singer – Uganda
Robinah Babirye aka 'Ruby' (sister of Eve) is a proud youth born with HIV, a volunteer at PINA Uganda, an advocate, a role model to many young people, a peer educator, and the former Miss Y+ Uganda (a beauty pageant to end HIV stigma and discrimination) 2015.
4) Shakirah (Keira) – Singer – Uganda
Namwanje Shakirah, aka 'Keira', is a musician, film actor, counsellor, peer educator, a survivor of sexual abuse and a young woman living with HIV who has dedicated her life fighting for the rights of girls. Keira was just 8 years old when she was defiled by a family relative.
5) Flaviah Namuwaya – Marketer – Uganda
6) Asia Namusoke Mbajja – Executive Directive of PINA – Uganda
7) Shubham Dhariyal – Web designer/Marketer – India
8) Kobena Aquaa-Harrison – Multi-Instrumentalist – Canada
9) Bryant Didier – Bassist – Canada
10) Earle Davis – Trumpeter – United States of America
11) Het Mavani – Copywriter/Assistant Manager – Canada
12) Lou Pinto – Documentary Filmmaker – Canada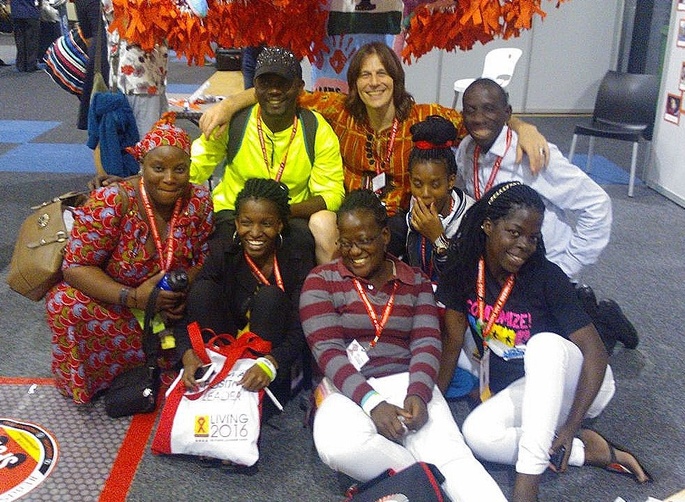 REWARDS FOR YOU
$50 – Lots of Love + Wall of Gratitude
Pledge a fifty and you'll receive a big thank you on our Digital Wall of Gratitude and Facebook!
$100 – Free T-shirt or a Hat
Pledge a hundred and you'll receive all of the above along with a free Southern Time T-shirt or a Southern Time Hat.
$200 – Free T-shirt AND a Hat
Pledge a two hundred and you'll receive the Love package plus a free Southern Time T-shirt and a Southern Time Hat.
BEFORE YOU LEAVE...
In order for a real-to-life rock opera to have integrity, one must think it should have a real-life rock band, with a real-life fan base, right? Well, we have the songs, the concept album, the band members, the trilogy is written, treatments ready to go… what is just lacking are funds to fund this rock opera's overture album, in order to garner the fan base, to make this story of triumph over despair REAL!! This is where you come in. If you feel moved, please pledge for our campaign, and contribute what you can.