** Every dollar given is one life changed. Each dollar given is a tax donation. We are honoured to be in a meaningful partnership with the charity, The Rogue and Rouge Foundation.
We want EVERY Australian
ON PURPOSE.
How? Connection is the key.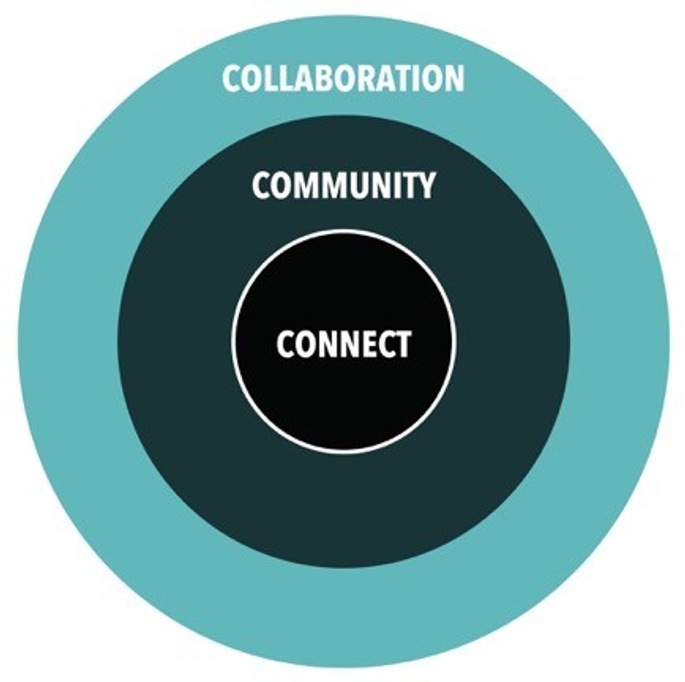 A little bit of context
By 2020, anxiety and depression will be the biggest health issue the world has ever seen. Last year, 10.9 billion was spent on stress leave in workplaces. Every three hours someone kills themselves in this country.
This is what we call 'disconnection'... and to us, it is unacceptable!
It's a real problem
50% of Australians will experience a mental health illness. Only 35% of those people will utilise a health service. The stigma of mental health is the problem. Australians don't want to be seen as having one. It's a silent suffering that we all know too well. It's affected our mums, dads, brothers, sisters and your friends, friends, brother. We have all lost people to this mental health crisis. Both physically, mentally and emotionally.
The Government and mental health organisations are doing their best - we do not doubt that at all. However, it cannot be just left to them to decide.
The opportunity we have to build a wellbeing movement that people can trust. The answer lies in one word - CONNECTION.
Here's what we're doing about it

It is a national road trip. But its more than that...
Think an 'inspired adventure holiday' meets the 'Variety Bash'
Think 'Ted Talks meets Oprah' wellbeing events
We take people from disconnected to connected
We emphasise collaboration, over self-promotion
This November, People On Purpose ambassadors from all over Australia will kit themselves out in a LetsGo Motorhome and a road trip to Melbourne, dropping into communities and regional centres along the way to take part in workshops and events that will spark an inner fire of purpose and wellbeing within themselves and those they connect with.
Then, every road-tripper will meet in Melbourne for our huge finale: REALfest on Dec 1st for over 1000 people who have heard the call to action to join together. This will be a celebration of the road trip, purpose, personal growth and community connection and we can't wait to celebrate with everyone in our amazing community!
This is our vibe. This is our purpose.
Collective Potential is the wellbeing social enterprise behind this. We have worked with over a quarter of a million people to date who love our experiential, transformation events, coaching programs and workshops. Our high impact transformational events inspire individuals, teams and communities to thrive and achieve.
---
YOUR DONATION WILL SAVE LIVES!
We decided back in September, 2017 that we needed to go out on the road to find out just how disconnected Australians were. We wanted to see for ourselves just what are the gaps in the health system were.

We asked Lets Go Motorhomes to kindly lend us one of their luxury motorhomes. And they did! Such legends.
Our CEO, Emeli Paulo pulled over into a small rural town. By some chance, by fate if you believe it, Emeli had the moment that was the catalyst for this movement.
Emeli saved just one women's life. Yes. Saved. Ashlee was about to attempt suicide when Emeli 'just happened' to be on the road a the moment Ashlee couldnt go on. After a terrible ordeal, she was taking care by Emeli and was given the support she needed.
Ash rang Emeli last week and told her "Thank you. I havent thought of suicide once since you helped me find my purpose. I wouldn't be here if it wasnt for you and the road trip.
Imagine who we will meet out on the road - by chance - and we can give them the tools, tribe and community of support.
So, how do you connect with 100,000 Australians, you ask? And when we say 100,000. We really mean it.
1. ROAD TRIP
We are hitting the road to meet them and empower them with tools, tribe and experts. Up to 200 everyday Aussies will join the road trip on Nov 21st. There will be up to 20 Purpose Ambassadors per state. They will be from all walks of life. Social connections are key!
We will stop off in many rural communities, holding a series of wellbeing events on 'how connection and purpose is the key to improving wellbeing'.
Your donation supports individuals in need of a purpose.
www.collectivepotential.com.au
---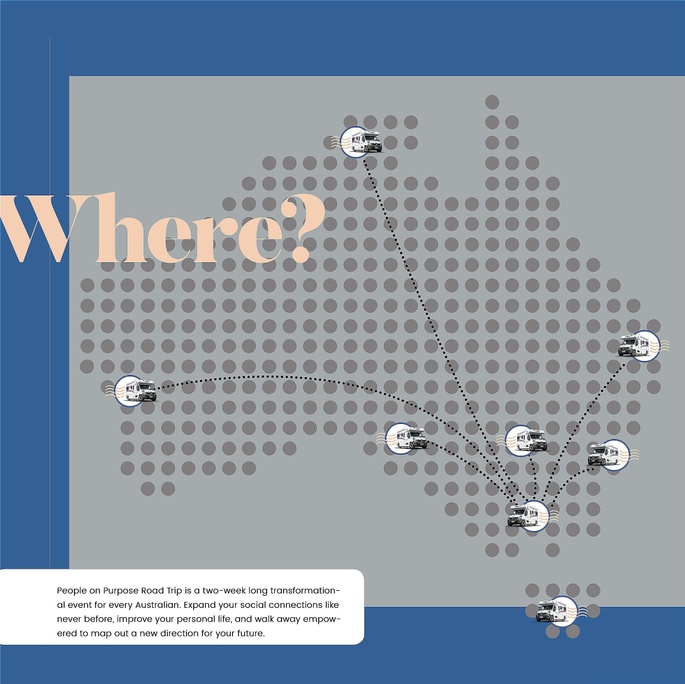 2. GENUINE COLLABORATION PLAN
We partner with health orgs, professionals, workplaces, influencers and activists to raise awareness about our plan to improve mental health. It's not just an awareness campaign. It's a people powered movement.
Already, our collaborators have started to meet to build connection and lower the frightening mental health stats.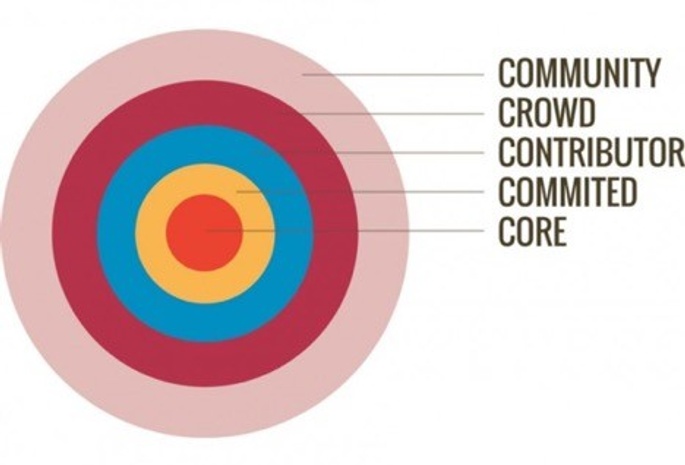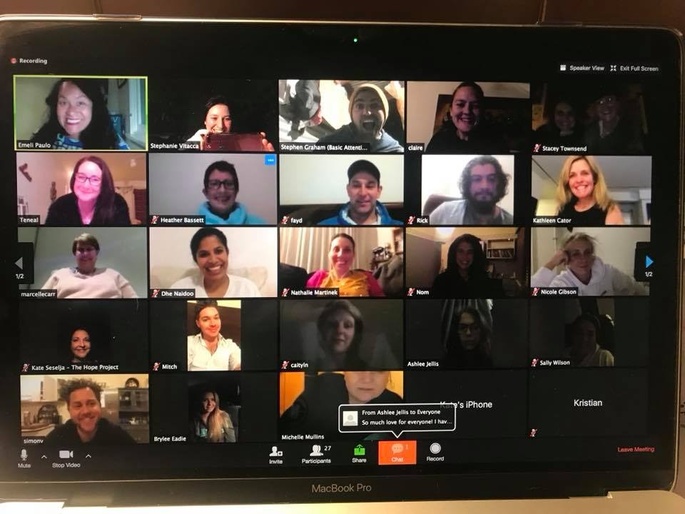 www.collectivepotential.com.au

And how it's going to change the world? Ok, ok Australia first.
We believe change starts within. Picture 100,000 people empowered, on purpose. Can you feel it, see the impact, hear the stories?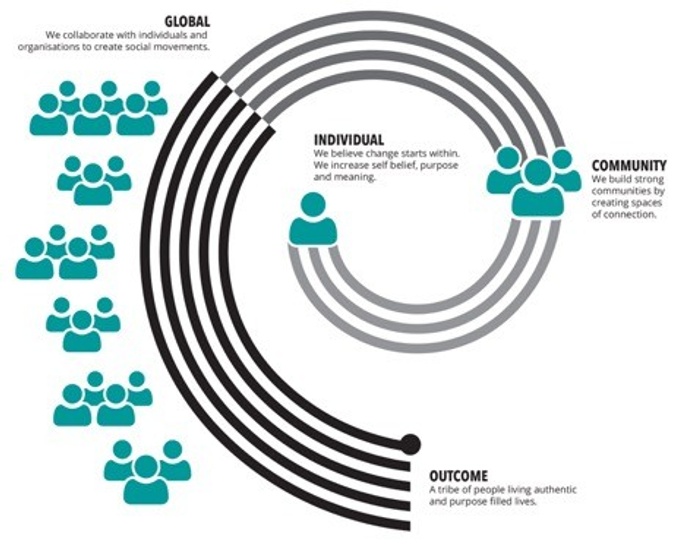 Remember, it might look like a road trip but it's not.
RESEARCH: Melb University, Dr Peggy Kern will conduct a research project for 12 months on 200 Purpose Ambassadors to measure the success on the phenomenology of Collective Potentials approach. Answering the question 'how does connection improves wellbeing'? We will hold a national survey in partnership to 'just how disconnected is Australia, eh?' This research can be use with all of our collaborators
PRESENTATION/EVENTS: Over the next 5 years, we take our research findings, a team of wellbeing experts and then tour the country! We continue to spread the message 'WE NEED CONNECTION' across 1000 rural towns. By offering presentations, workshops to empower people with the online tools, tribe and a team of wellbeing experts to support Australians to reach their potential and live their dreams.
TRAINING: Our dynamic facilitator training will develop the skills, the lived experience and strengths of our Ambassadors. We will be known as a go-to for unorthodox mental health services
POLICY: Collaboration is at the heart of what we do. Our national network of 1000's of health professionals will work together rather than in silo's to create solutions to advance the health of our country. We will ask the Government to validate a timeline to accrediate our facilitators and collaborators to be given accreditation as serviced providers. What does that mean? We pave the way. Or id it 'drive'?
You can join us
We are going to turn $50,000 into $500,000.
Just you wait and see!
We will use the $50,000 to be a sustainable social enterprise.
We need to create a prototype. A MVP that works. We need to test, to pilot the first road trip. Apply iterations and REPEAT!
$20,000 in sustainability activities ie. Financial investment, HR, Governance
$10,000 in social change marketing to get our message across the country and into the towns, cities that need it the most
$10,000 for the deposit for the Lets Go Motorhomes (we will raise the rest in revenue, philanthropic ventures and corporate sponsorship)
$10,000 for Real Fest, a 1000+ ticketed event to bring the collaborators and world class speakers together to inspire connection of our social campaign
We want you to help us fund 10% of our GOAL. Can we do it?
HELL YES!
And here's some amazing perks for supporting us that you can't live without
We're going to get every Australian on purpose.
If not, you then who?